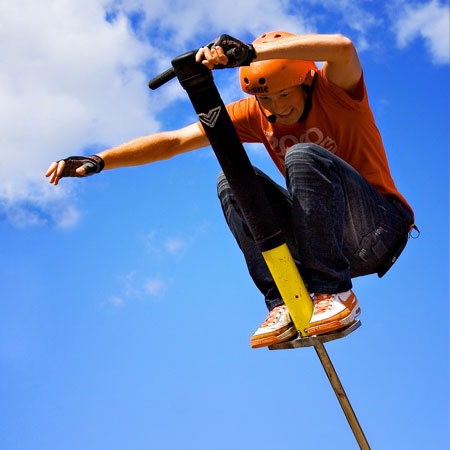 Pogo Stunts: Chad
Performing amazing stunts & comedy using pogo sticks- highly recommended
Extraordinarily random, Eye-poppingly impressive & Hilariously funny
As seen on TV shows inc America's Got Talent & Live! With Regis and Kelly
Available for Fairs, Festivals, Universities, Corporate Events...
Based in Boston, USA and available to perform at events Worldwide
Super charged and ready for action, Chad and his extreme pogo skills, charmingly funny jokes and antics got him on television shows like America's Got Talent, Live! With Regis and Kelly, and Star King (Korea). His clowning around started in Ecuador at age 19 and has since made thousands of people laugh at schools, fairs & festivals, colleges and universities. He's been voted as a fan favourite for his mix of hilarious stand up comedy and unusual tricks and stunts. 
Extraordinarily random. Eye-poppingly impressive. Hilariously funny. Chad has taken bouncing to a whole new level! Laugh until it hurts as this stunt comedian balances a shopping trolley on his face and rides another person on his miniature bicycle. Wearing his trademark orange, Chad resembles an Satsuma defying gravity as he reaches neck-straining heights on his air powered pogo stick! If you don't like laughing, go somewhere else.
The variety of Chad's show has been at Fairs, Festivals, Schools, Universities, Summer Camps, Corporate Events, Day care and Senior Centres. You name it he's probably performed it! No stage is too small, no audience is too big. Whatever the age, Chad will keep it fun and appropriate for the right crowd. His full time seven years of experience in the business of laughter will not disappoint, but leave you wanting more!
Street Performance World Championship (Ireland) 2011
Cairns Busker Festival (Australia) 2008
Just For Laughs Comedy Festival (Montreal) 2009
Kingston Buskers Rendezvous (Best novelty Act 2008) 2009
San Diego Seaport Village Busker Festival 2009
Waterloo Busker Festival 2009 2010
Lake George Street Performer Program 2009 2010 & 2011
Pogo Palooza 2008 - 2nd Place Best Trick
Pogo Palooza 2010 - 3rd Place Best Trick 4th Place Highest Bounce (8'ft)
Turning Stone Casino 2007 2008 2011
Beach Street USA 2007 2008 2009
Carousel Mall 2007 2008 2009
Walker Brothers Circus 2006
Camp Hoover 2007
P&C Warehouse Christmas Party 2005
Westcott Cultural Fair 2006
Lockheed Martin
Cxtec
CNY Fertility
Yeah Baby!
Double Tree
Macy's
Family Times
Bloomingdale Church
Eastern Hills Christmas Party
News Channel 3 Action News
News Channel 9 "Rick & Julie"
Fox News 40
WCNY Channel 24
Ctv
Live! With Regis & Kelly
Star King (South Korea)
Event Company
Performances Include:
Ansan Festival (South Korea) 2009
Coffs Harbour Comedy/Busker Festival (Australia) 2008
Toronto Busker Festival 2008
Sault Ste. Marie Busker Festival (People's Choice Award 2008) 2011
Halifax International Busker Festival 2009
St. John Buskers On The Boardwalk Festival 2010
Pacific National Exhibition PNE (Vancouver) 2009
Pogo Palooza 2009
Pogo Palooza 2011 - 5th Place Highest Bounce (8'ft)
Autorama 2009
Venice Beach 2008
The New York State Fair's 72nd Shrine Circus 2006
Syracuse Opera 2006 2007
Knott's Berry Farm 2008
Syracuse Carrier Dome 2009
Picnic with the Police 2006 2007 2008
Past Clients:
Huhtamaki (Oswego)
Radio Disney
Dairy Queen
Valley Men's Club
Holiday Inn
The Rosamond Gifford Zoo
Carrier
Church Of The Resurrection
Magic Hat
Television:
News Channel 5
News 10 Now
News Channel 12 Binghamton
Clevland Fox News
America's Got Talent
Discovery Channel
Just For Laughs Comedy Show
Faneuil Hall Marketplace Street Performer Program 2010 & 2011
IDEA ARTICLES RELATED TO Pogo Stunts: Chad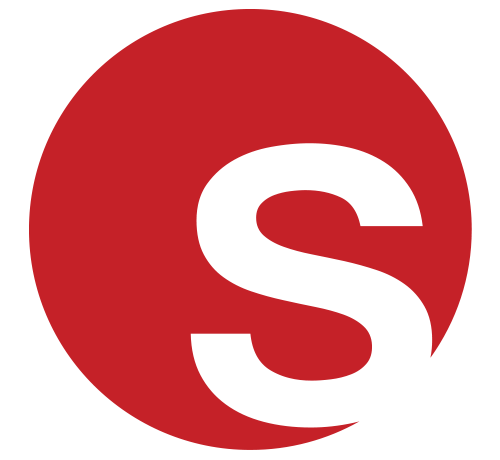 Luxury Children's Party Entertainment For That Special Occasion
Luxury Children's Party Entertainment For That Special Occasion
Grace Henley
|
17/09/2017