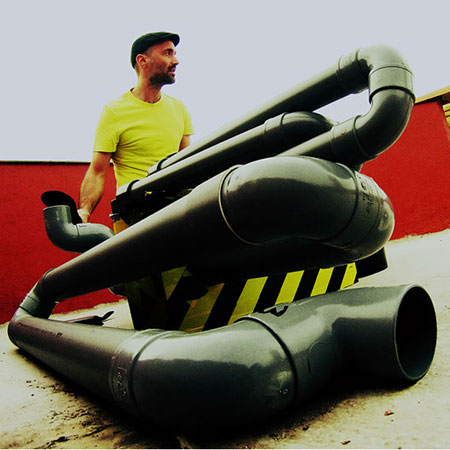 PVC Pipe Percussionist Madrid
PVC Pipe Percussionist is street entertainment that will make people want to dance
Upbeat rhythms based on Electro, Drum and Bass, House and Techno
Street percussive performances using recycled instruments
Great for outdoor events and any occasion with an eco-friendly or recycling theme
Based in Madrid and available for events all over the world
PVC Pipe Percussionist Madrid PHOTOS
Our PVC Pipe Percussionist Madrid is a seasoned street entertainer who has created a superb live act using recycled instruments. This incredible Spanish musician has taken live music street percussive performances to the next level. Working with a home-made drumkit made of recycled materials including large PVC pipes, this street entertainer creates astonishing sounds that captivate audiences wherever he goes. 
The unusual Spanish musician not only uses his homemade PVC pipe drums create upbeat percussive sounds but they actually produce notes too meaning he is able create both rhythm and melody in a way of keeping guests captivated. This is a skill he has learned as a very experienced street entertainer. PVC Pipe Percussionist Madrid specialises in creating beats that make people want to dance and this is usually a mixture of Electro, Drum and Bass, House, Techno and Dub. 
Originally from Madrid, the PVC Pipe Percussionist has provided street entertainment quite literally all over the world. Audiences of all types are always attracted towards his recycled instruments and fascinated by the incredible sounds he produces. He has been booked for music festival across Europe and for a wide variety of events including the Dubai Shopping Festival. He even appeared in a Spanish Samsung advert.
Available for stage or floor performances, one thing is for sure, this guy will definitely pull in a crowd. He is a great choice of live music entertainment for outdoor events and any occasion with an eco-friendly or recycling theme. 
To book this unusual Spanish musician for your special event, please contact our team at Scarlett Entertainment.