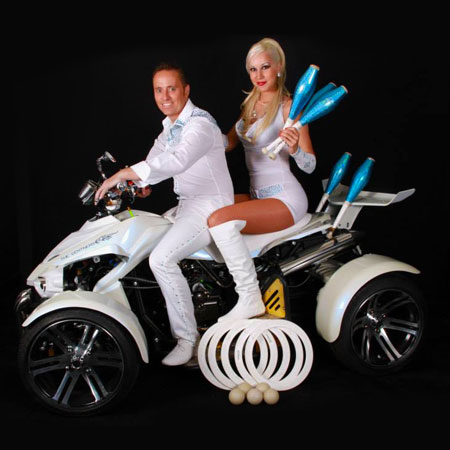 Quad Bike & Unicycle Juggler
Fantastic performer and his glamorous assistant deliver high impact juggling acts
Crowd pleasing unicycle stunts and juggling whilst on the back of a quad bike
Delivers speed juggling with clubs, rings and even fire
Highly suited to motorsport events, family shows and circuses
Based in the UK and available for events in Europe
Quad Bike & Unicycle Juggler PHOTOS
Our sensational international circus performer is a highly skilled entertainer and a natural showman who loves to deliver exhilarating shows that wow audiences of all ages. Our quad bike & unicycle juggler and his glamorous assistant deliver high impact juggling acts based on a customised quad bike and a unicycle. 
Offering two thrilling juggling based acts, our skilled circus performer can amaze audiences with a performance on the back of a moving quad bike. The elegant white quad bike has been customised with impressive LED lights and matches our juggler's white costume. The routine involves performing various juggling tricks with clubs, balls, rings and fire on and off the bike.
The second routine involves our circus performers incredible unicycle skills. This impressive show involves a variety of juggling tricks, unicycle stunts on and off customs LED platforms. The juggling and unicycle stunts have wowed audiences all over Europe and as far afield as Australia and Mexico. 
Based in Northampton, our quad bike & unicycle juggler act is able to transport all the equipment by road and can travel as far as Eastern Europe. The quad bike, juggling and unicycle stunts are very well suited to motorsports events,
Top Tip:
This act can also include a unicycle performance with his son who takes after his father and his glamorous assistant is also a aerial Corde Lisse artistefamily shows, circuses and corporate functions.
Make sure you get in touch with our Entertainment Specialists if you're interested in booking the quad bike & unicycle juggler for your next event.