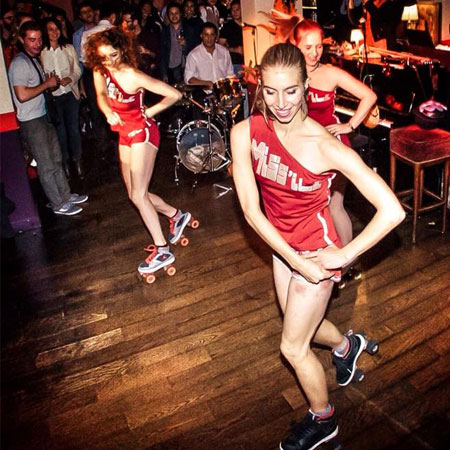 Roller Skate Dance Group
Professional roller skate group provides dynamic entertainment
Offer a range of performances: shows, stunts and hosts/hostesses
Have appeared in a number TV shows and music videos
Previous clients inc. Adidas, Benefit Cosmetics and Levi
Teams in Paris and New York available for events worldwide
Roller Skate Dance Group VIDEOS
Roller Skate Dance Group PHOTOS
If you're looking for exciting and dynamic entertainment to give your event a quirky and creative edge this professional roller skate performance group offers a range of acts that will surprise and impress guests.
They offer roller skate shows, in line skating performances, slalom, high and free jumps, product promotions, music videos, workshops, roller discos and host/hostesses and waiters/waitresses. With such a wide repertoire they are perfect for a whole host of events from corporate parties and product launches to gala events and private parties. Counting high-profile clients such as Benefits Cosmetics, Adidas, Levi and Virgin Mobiles amongst their previous clients you can rest assured that they will provide world-class entertainment for your event.
Mixing together skating and hip hop inspired dance, their high-octane roller dance shows are completely unique and original and can be adapted to suit a wide range of themes including: disco, broadway, bond girls and cheerleaders. Similarly their services as hosts/hostesses or waiters/waitrresses can be adapted to suit your specific event.
Their slalom act showcases fancy footwork and incredible technical skill as skaters manoeuvre around a serious of cones at high speed - audiences won't believe their eyes as these skaters weave in and out of obstacles with incredible precision! For additional effect, this show can be performed in the dark with illuminated cones and costumes.
If you're looking for a spectacular stunt show look no further than their free and high jump performances. These daring skaters free jump over high sticks or string clearing incredible heights that will have audiences on the edges of their seats! Their high jump show takes it to the next level with the addition of a springboard.
Alternatively, the group also offer 1970s roller discos perfect for private parties and corporate events as well as skate instructions for both adults and children.
To find out more contact our team of Entertainment Experts.
Levi
China Club New York
& many many more
Benefit Cosmetics
Virgin Mobiles
Avicii's 'You Make Me' official music video
Adidas