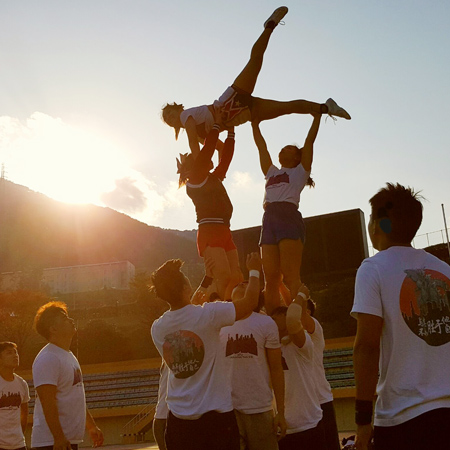 Singapore Cheerleaders
High energy cheerleading performance to impress audiences worldwide
Skilled performers capable of displaying incredible acrobatic routines
Cheerleaders will stand in the sidelines and lift morale with customised cheering
Perfect for sporting events, product launches, trade shows, parades and much more
Based in Singapore and available to perform at events worldwide
Singapore Cheerleaders PHOTOS
Cheerleaders are the perfect way to excite and crowd and get the energy levels and enthusiasm up at events. They bring outstanding positive entertainment mixing stunning choreographed acrobatic routines with high spirit cheering.
From just two cheerleaders to a whole squad, this cheerleading collective are ready to amaze the audience. They will impress the spectators with an adrenaline fuelled show of acrobatic gymnastics and balancing acts. Usually paired into male and female groups, one base performer is responsible for the flyer, often launching her into with air and balancing on just one hand. It is an incredible endurance of strength which these skilled performers have mastered along with superb acrobatic abilities.
Our cheerleaders will also provide your event with up to an hour of cheering. This is an exceptional way of lifting morale at events and really great for setting a highly positive and energetic mood. For sporting events this not only encourages the sports persons to perform better but whips the crowds up into a frenzy. Their cheering performance is totally customisable and they will chant whatever the clients wants.
The cheerleading squad will happily wear branded clothing and customised outfits to suit your entertainment needs. This kind of high energy act is perfect for sporting events, product launches, trade shows, street parades and much more.
This is an outstanding cheerleading collective founded in back in 2004 and consist of many veteran cheerleaders from Singapore. These highly skilled performers have won numerous local and international championships. They currently hold five national titles and are the the representative team for Singapore in 2016.
To book this high spirited entertainment for your event speak to one of our team today.