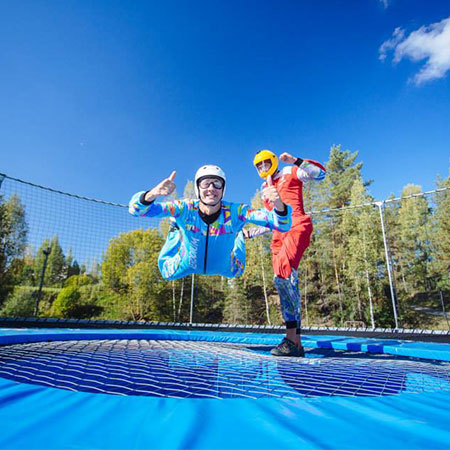 Skydiving Wind Tunnels
The ultimate outdoor skydiving experience that can be enjoyed by people of all ages
Flight instructors provide a short training session so everybody gets the most out of this body flying session
Wind tunnels, flying suits and general equipment can be branded with logos or specific designs
Have provided the entertainment at events held by Mercedes Benz, Red Bull and the NFL
Based in Latvia and available for events all around the world
Skydiving Wind Tunnels PHOTOS
Take your event to the next level and make people literally fly with these phenomenal Skydiving Wind Tunnels. Make the longstanding dream of many come true by offering guests at your upcoming event with the ultimate outdoor skydiving experience.
Our wind tunnel specialists are backed by more than 30 years of experience in aerodynamics and entertainment. They have brought together these two different worlds to offer unique and unforgettable experiences for all kinds of people.
Loved by both children and adults, body flying sessions can be taken by people of any age. Professional flight instructors and wind tunnel specialists will be at the disposal of all participants, so no matter if your guests have experience at flying or not, all young, old and professional flyers alike will be able to enjoy this outdoor skydiving experience.
Our wind tunnel specialists take all the necessary measures to ensure the body flying sessions are a safe experience for everybody. Safety cushions and all the necessary equipment including goggles, flying suits and helmets are provided by our professional flight instructors to all participants regardless of age, size and level of expertise.
These vertical Skydiving Wind Tunnels are usually built in the open so people can enjoy an outdoor skydiving experience. However, they can also be built indoors and ensure noise is not a problem thanks to a noise reduction wall that can also serve as a banner to promote your brand or event.
As you can check in the pictures above, our Skydiving Wind Tunnels can be personalised with your logo and the same could be done with flying suits and the rest of the equipment. On top of that, our wind tunner experts can also offer personalised stunt shows for your opening ceremony, festivity or other type of special occasion!
Renowned brands such as Mercedes Benz, Red bull and famous Football leagues like the NFL have already trusted these vertical wind tunnels specialists to provide the entertainment for their events with a performance team. What a better way to engage audiences than giving them the opportunity to make their dream a reality?
Defy gravity and give people the opportunity to fly by booking these Skydiving Wind Tunnels today.
Contact us and make your enquiry. Our in-house team of entertainment specialists will be happy to give you further details on this outdoor skydiving experience.
Open Air Festival in Shangai China 2016
Mercedes Benz Presentation China 2015
Doha's Spring Festival Qatar 2013
Guinness World Record Show Italy 2012
Shooting of Jackie Chan Movie Latvia 2012
World Expo China 2010
Closing Ceremony of Horse Racing CupUnited Arab Emirates 2007
Closing Ceremony of Olympic Games Italy 2006
F1 Grand Prix of Europe Azerbeijan 2016
NFL Draft US 2015
Bahrain International Air Show Bahrain 2014
Guinness World Record Show China 2013
Participation in Peter Pan Musical Europe since 2012
Red Bull Boi Fair Thailand 2012
Launch of Sochi 2014 Winter Olympic Games Brand Russia 2009
Black Sea Games Turkey 2007
Superman Returns Movie Presentation Italy 2006
and many more…
Saigon Beer Promotion Vietnam 2016