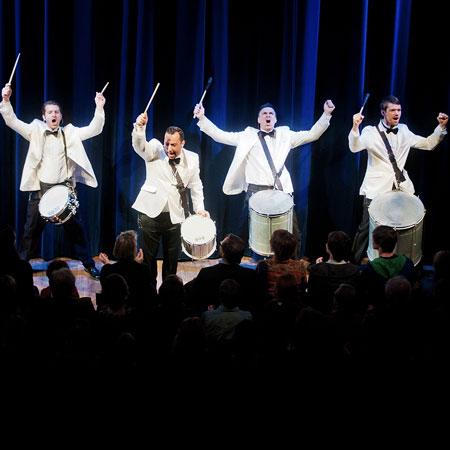 Smart Samba Quartet
Smartly dressed and humorous four-piece Samba group
Mixing Brazilian rhythms with black tie appearance
Amazing entertainment for high profile events, weddings and dinner parties
Bring high energy and positive beats
Based in California and available all over the world
Smart Samba Quartet PHOTOS
Breaking the visual boundaries of traditional samba groups our smart samba quartet will delight your guests or party invitees with their fancy attire, pounding beats and extremely charismatic performance. An unusual musical act that breaks boundaries. 
The walkabout percussionists have taken the Brazilian rhythms from the street parades of South America and blended it with the elegant and sophisticated dress code of back tie events. The result is a unusual music act that can bring high energy and positive percussion to high end, classy events.
Our Smart samba quartet feature four roaming drummers who will make their way through an audience building up the atmosphere with they infectious rhythms, they engage with the crowd and encourage them to clap along and finish with an exciting and humorous performance in a centre spot in front of the guests.
The walkabout percussionists are a sophisticated but unusual musical act that is very suitable for high profile events, weddings, dinner parties and business conferences where appearance matters, and so does fun musical entertainment.
Get in touch with our team of entertainment specialists to book these roaming drummers on stilts for your next event.