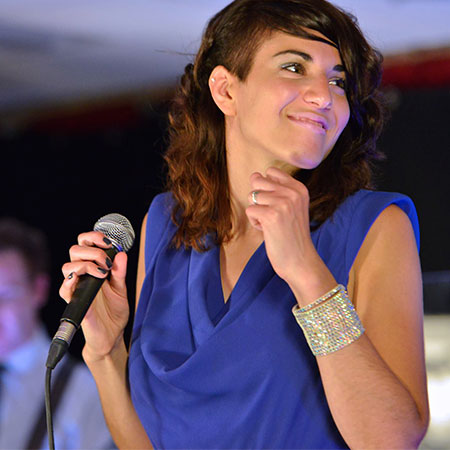 Solo Female Singer
Versatile event female singer captivates listeners with her melodious and powerful voice
Repertoire covers various genres and styles including pop, soul and other contemporary music
Can perform as a soloist or accompanied by live band or as a part of a gospel choir
Especially suitable for weddings, private parties, festivals, galas, resorts, etc.
This Solo Female Singer is based in Germany and available for performances worldwide
Solo Female Singer PHOTOS
If you're looking for female singers for weddings, parties or other special occasion, then look no further. This Solo Female Singer based in Germany is guaranteed to delight your ears with her captivating and powerful voice. The
This event female singer discovered her passion for music at a young age. She became especially interested in singing and she managed to turn her childhood hobby into an occupation. This artist took singing lessons and started her professional career collaborating with some bands in Germany. During this initial stage, she performed in front of thousands of young people at music festivals.
Professionally and academically trained, this singer studied a Bachelor of Arts in Music with Instrumental and Vocal Music Teacging and graduated with honours from Chichester University, in the UK. She has both academic and teaching experience as she is also a vocal coach who teaches other how to train their voice and develop their vocals.
Her musical preferences include music by Beverley Knight, Jake Issac and Scouting For Girls, but her repertoire covers a variety of styles and genres. From pop to chart-topping hits, our event female singer feels comfortable performing all sorts of music.
As a solo female singer, she can perform to backing tracks. Our live female vocalist can also ask other live musicians to join her on stage for some performances. She can perform with either a function band or a gospel choir. In fact, she regularly performs with various bands and musical ensembles.
The ideal live music entertainment option for a wide range of events, you can hire this and other female singers for weddings, private parties, festivals, galas, resorts, etc.
Originally from Germany and currently based in Germany, this talented Solo Female Singer is available for bookings all around the world. To book her, contact us today and ask to speak to one of our Entertainment Specialists. They will gladly answer all the questions you may have about this live female vocalist and guide you through the booking process.
" She is a mightily impressive vocalist with an incredible work ethic and passion for what she does "

Katie Leone - BV for Chaka Khan, Emeli Sande and Lead Singer in Incognito
" She is a delightful blend of an outstanding, stunning and versatile voice, mixed with a cheerful, friendly and energetic personality "

Simon Brading - Newday Event