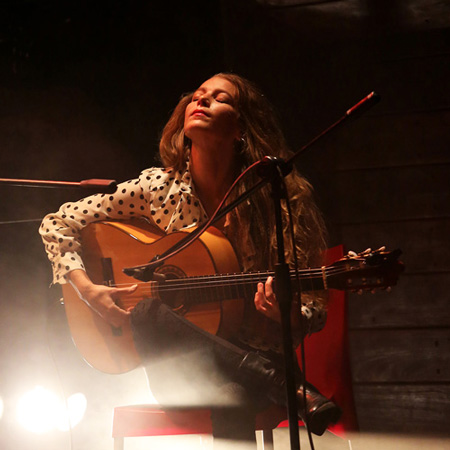 Solo Flamenco Guitarist
Our solo flamenco guitarist is an accomplished composer, producer and performer of flamenco music
Renowned international is one of the very few accomplished female musicians performing flamenco guitar music in the world
Bring an authentic flavour of Spain to your event with the rapid melodies and strong rhythms of traditional flamenco guitar music
With a wealth of stunning original compositions, our female musician can play her own music or covers of popular hits
This Spanish guitar player is based between Israel and Spain and is available for bookings worldwide
Solo Flamenco Guitarist PHOTOS
Our international solo flamenco guitarist is one of the few accomplished female musicians performing successfully in this genre. She has wowed audiences throughout the world with her incredible flamenco guitar music and virtuosic performances.
Multi-Talented Spanish Guitar Player
This multi-talented performer began her music career in Israel playing the piano and classical guitar. She studied rock, jazz, and whilst living in India she studied sitar and Indian music. She first encountered Flamenco culture in Andalucia and started learning flamenco guitar music with the most renowned instructors in Spain.
With a wealth of stunning original compositions, our international solo flamenco guitarist can play her own music or covers of popular hits, bringing an authentic flavour of Spain to your event with the rapid melodies and strong rhythms of traditional flamenco guitar music. 
Accomplished Female Musician 
Our female musician's debut performance was at the Inbal Theater in Tel Aviv, accompanied by a full ensemble of vocalists, percussionists, bass players, flautists and flamenco dancers. It was the first original performance in history to be composed, arranged, produced and performed by a female flamenco guitarist.
She has since performed in concerts, flamenco clubs, festivals and notable events across Europe and Israel as a solo flamenco guitarist as well as alongside various ensembles. Notable performances include the Flamenco International Festival in Madrid, Osuna Guitar Festival, Jerusalem Jazz Festival and Flamenco y Otras Aves as well as several performances alongside the Israeli Andalusian Orchestra.
Flamenco Guitar Music to Suit Any Occasion 
The perfect live music entertainment to suit a range of occasions. Perfect for corporate events, drinks receptions, weddings, parties, festivals, cultural events and more. Our female musician is based between Israel and Spain and is available for worldwide bookings. 
To find out how to book this solo flamenco guitarist for your next event, contact our team of entertainment specialists today.