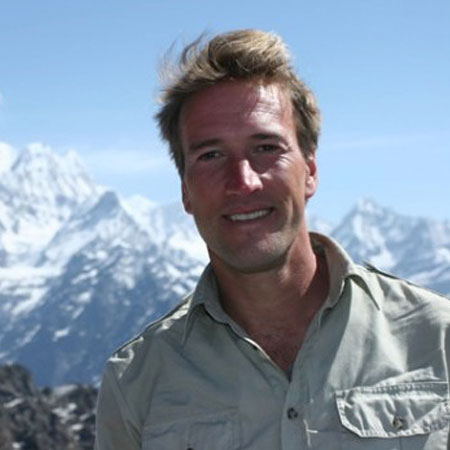 Speaker Ben Fogle
Renowned TV presenter, writer and adventurer
In great demand as an awards presenter and motivational speaker
British record holder for rowing the Atlantic Ocean
Can share the stage with double Olympic gold medalist James Cracknell
Based in London & available to speak at events worldwide
Ben Fogle is a TV presenter, writer and adventurer. His in great demand on the corporate circuit as a motivational speaker due to his achievements, which include racing 160 miles across the Sahara desert in the notorious Marathon Des Sables, rowing the Atlantic Ocean in 49 days and crossing 500 miles of Antarctica in a foot race to the South Pole, to name just a few. His hit BBC adventure show, Extreme Dreams saw Ben lead ordinary people on extraordinary journeys across some of the most hostile environments on earth.
Ben first appeared on our TV screens in 2000, after volunteering to be marooned on a remote windswept island in the Outer Hebrides as part of the BBC's big millennium project Castaway 2000. Since then, he has gone on to make numerous TV documentaries, and host a number of hit shows including several series of Animal Park and Countryfile, plus Wild in Africa, Swimming with Crocodiles, One Man and His Dog, and Prince William's Africa, in which Ben followed the young royal on his tour of Botswana. More recently, Ben has presented New Lives in the Wild, Harbour Lives and Countrywise. Ben is also a special correspondent for NBC News in the United States.
In 2005 Ben teamed up Olympic Gold Medallist James Cracknell to row the Atlantic, as part of the five part BBC series, Through Hell and High Water. The film and book, chronicling the adventure showed the pair's physical and psychological trials, managed to set a British record, and win an Royal Television Society award. Their success resulted in a follow-up BBC series, On Thin Ice in 2009 which saw Ben and Cracknell race 500 miles on foot across Antarctica to the South Pole.
Ben has written five bestselling books, and also writes for several titles including: The Guardian, the Daily Mail, the Sunday Times, New York Times and the Sunday Telegraph.
Speaker Topics:
In his motivational speeches, Ben Fogle touches on the following themes, as he recounts his most challenging adventures.
Team Spirit
Overcoming Adversity
Taking Risk
Commitment and Perseverance
His natural presenting skills combined with passion for everything from animals and wildlife, to adventure, lifestyle and sport, make Ben Fogle an ideal choice as an awards host for companies across a wide range of sectors.
Keywords:  Teamwork > Motivation > Inspiration > Overcoming Adversity > Risk > Perseverance > Animals > Wildlife > Adventure > Conservation > Lifestyle > Country