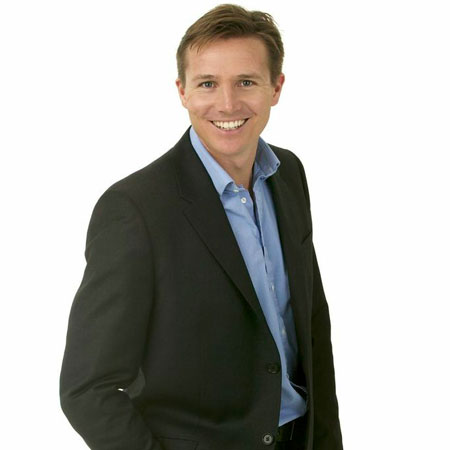 Speaker Roger Black
One of the country's leading sporting motivational speakers
Winner of the Olympic 400 metres Silver Medal in 1996
High-profile sports commentator and TV presenter
Previous clients include IBM, Dell and Accenture
Can share the stage with fellow Olympian Steve Backley
Speaker Roger Black PHOTOS
Roger Black MBE is one of Britain's most cherished Olympians and also one of the country's leading sporting motivational speakers, undertaking an average of 70 speaking engagements per year. Throughout his sporting career he won fifteen major Championship Medals including European, Commonwealth and World Championship Gold Medals, and was made British Men's Team Captain. Although undoubtedly his greatest achievements were winning the Olympic 400 metres Silver Medal in 1996 and being part of the 4 x 400 metres relay team which won Gold at the 1991 World Championships - his achievements were all the more celebrated given that he had overcoming serious injuries and a rare heart valve condition.
Roger touches on his experiences and overcoming these challenges to inspire and motivate audiences throughout the UK and Europe – he understands the dynamics of becoming a champion, how to live a dream, set goals and fulfil your potential. He captures the essence and translatable behaviours of successful athletes and in effective key messages.
As well as being in-demand as a speaker, Roger has continued to maintain a high public profile through his media career, where he commentates for some of the major athletic championships, including the Commonwealth Games, the European Championships, the World Championships and the Olympics. He is also co-presented Tomorrow's World and the award-winning City Hospital for the BBC.
In addition, Roger is a familiar celebrity guest and panellist on prime-time television in programmes such as A Question of Sport, They Think It's All Over, Strictly Come Dancing, Celebrity Master Chef and GMTV, Superstars and Celebrity Mastermind.
Speaker Topics:
In his speech, Roger shares with the audience the lessons of his career, and how he achieved his Olympic dream. He focuses in particular on the space between talent and performance, the attitude and behaviours of world class performers, and the balance between individual and team success.
Change Management
Overcoming Adversity
Talent is not enough
Need to Achieve v Fear of Failure
Leadership
Teamwork
Ownership/ accountability
Synergy - surrounding yourself with talent
Pro-active v Re-active
In addition to his ability as an individual speaker, Roger also shares the stage with fellow Olympian Steve Backley in a special collaborated speech which focuses on transferring Olympic performance into the workplace.
Steve Backley and Roger Black can also offer full-day workshops for 20-40 people.
Keywords:  Olympics > Athletics > Motivation > Change Management > Overcoming Adversity > Talent > Performance > Fear of Failure > Leadership > Teamwork > Accountability > Pro-active