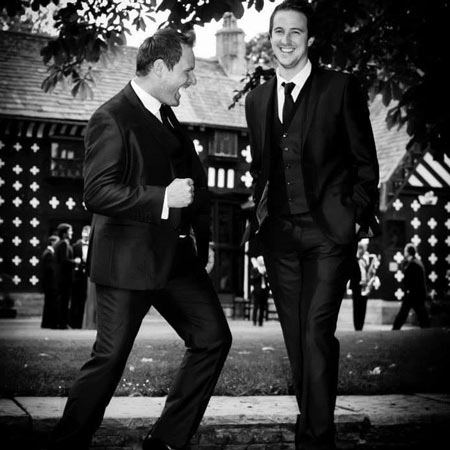 Swing Brother Duo UK
Talented swing band will wow your guests with remarkable covers.
Sensational live music show filled with explosive atmospheric qualities.
Exceptional swing duo will captivate guests with ease.
Perfect swing musicians for weddings, parties, gala dinners, themed occasions, etc.
Book cover performers for events in the UK and worldwide.
Treat your guests attending your upcoming special event or social gathering to a magical and phenomenal live music show experience, comprised of sensational cover performers that are experienced and have performed at a multitude of events. A talented swing duo that will bring a unique atmospheric quality to your upcoming special occasion, performing a handful of cover renditions that span a variety of genres to help keep your guests hitting the dance floor from start to finish. Bound to have mass appeal and exceed expectations, our raving swing band and swing musicians will impress. 
Our skilled and talented swing duo create their own unique cover arrangements that turn any song into a smash swing performance, delivering an upbeat live music show that anyone of any age can enjoy. Our wonderful swing band and swing musicians are always perfecting their live performance, ensuring your special event only receives the best version of themselves. An amazing pair cover performers, our incredible swing duo will leave your guests wanting more as they instil unforgettable memories and lasting impressions that will keep your guests talking for weeks to come. 
A truly fun filled live music experience, our raving swing duo will deliver an epic live music show that includes songs such as "New York, New York," "Cry Me A River," "Save The Last Dance," and "Beyond The Sea" to name just a few of the songs that can be included within our phenomenal live music show experience. Creating a fantastic and rich sounding environment, our wonderful swing musicians are high energy entertainers that are ready to take your special event by storm, making them the perfect option for private parties, corporate events, wedding receptions, drink receptions, gala dinners, family days, and more.
If you're interested in booking our amazing swing band to perform at your upcoming event or gathering, contact any of our phenomenal Scarlett Entertainment team members who will help you with our booking process, as well as answer any questions you might have.
Amore
Beyond The Sea
Bojangles
Come Fly With Me
Mack The Knife
New York New York
Fever
Under My Skin
Dance With Me Tonight
Ain't That A Kick In The Head
Cry Me A River
Everything
Save The Last Dance
You're Just Too Good To Be True
Once in My Life
How Sweet It Is
Can't Buy Me Love
Sweet Caroline