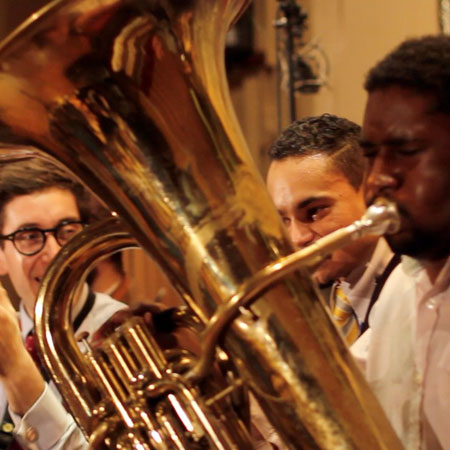 Swing Jazz Band
Established themselves as the most exciting young jazz band in London
Incorporate the sounds of New Orleans Dixieland, big band swing, 50s bebop
Repertoire includes hits by Fats Waller, Ella Fitzgerald, Louis Armstong…
Played venues including Ronnie Scotts, the 606 Club, the Vortex Jazz Club
Can perform from a 4 to 8 piece with female vocals if desired
Inspired by the swinging, hedonistic atmosphere of the one American city that overcame the Great Depression, this 4 piece House Band stands apart from all other groups currently populating London's booming 1930s music scene.
The group primary style is instrumental swing, incorporating the sounds of New Orleans Dixieland, classic big band swing and straight-ahead 1950s bebop. The band features anything from four to eight players, covering repertoire from giants of the genre including Count Basie, Fats Waller, Ella Fitzgerald, Louis Armstong and Sidney Bechet.
The band's stage presence is pure dynamism, combining a deep, collective understanding and love of the jazz tradition with a lightness of touch and a sense of adventure. They have quickly established themselves as the most exciting young jazz band in London, having already played venues including Ronnie Scotts, the 606 Club, the Vortex Jazz Club, Annabel's and The Servants Jazz Quarters, and also hosting their own pop-up events at The Peckham Liberal Club and the Vault Theatre Festival 2014.
The band features some of the brightest talents on London's live music circuit. Giacomo, a Ronnie Scott's regular and "a welcome addition to the London scene" (London Jazz News), leads on alto sax and clarinet. Reuben (tenor sax), Pete (trumpet) and Theon (tuba) complete the front line. The band's rhythmic identity pivots on the Freddie-Green-like playing of David on guitar and the double bass of Fergus. The phenomenal Reuben, "an exceptional pianist" (Cheltenham Jazz Fest), and Ronnie Scotts' house drummer Pedro, whose "musical ability combines a blend of styles creating a unique sound on the drum set" (Ronnie Scotts), add layers of rhythmic spontaneity that complete the back line. 
" As a producer, who has worked in both radio and television, I have rarely enjoyed working with a band more than them. All of the members play sensationally well - and are darned nice with it! They stole our Independence Day edition of Friday Night Is Music Night and all of us – orchestra and production alike – were delighted for them. If you get a chance to book them – do. You won't regret it. "

Anthony Cherry. Producer, BBC Radio 2.
" We were all there and everyone though they were great, Giacomo as normal brilliant! "

Annabel's [unofficial testimonial]
" They were fantastic! Such nice guys. So pleased they were there. Please hand on my thanks to them. "

Harriet Creelman, The Ambassador Theatre Group
" I thought it was swell and the crowd defo loved it. "

Jade Coles, programme manager, Shoreditch House
" They have the energy of Kerouac, the spirit of Mephistopheles and more raw talent than the Renaissance. Ninth wonder of the world. Long days of rest are needed after a KS party. You have been warned. "

Tim Wilson Director Vault Festival.