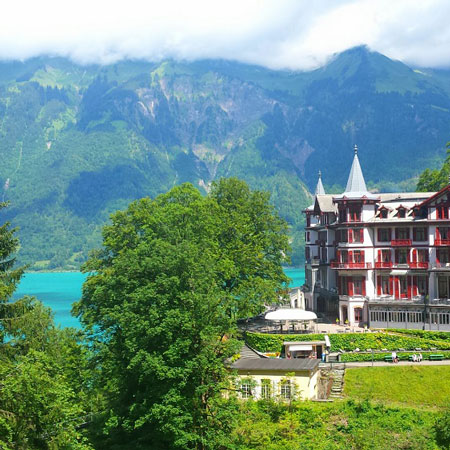 Switzerland Lake & Gorge Tour
Picturesque swiss sightseeing tour seeing lakes and gorges
Full day touristic activity with outdoor activities
For groups of around eight or more and private bookings available
Transport, guides, entrance fees and lunch included
Visit Interlaken and the Jungfrau Region
Switzerland Lake & Gorge Tour PHOTOS
Our Switzerland Lake & Gorge Tour lets guests enjoy picturesque swiss sightseeing with stunning lakes, traditional villages, impressive waterfalls, Incredible gorges, authentic chalets and cow paddocks. 
This Switzerland lake and gorge tour is recommended for groups of 7 or 8 people but can be adapted for larger groups and is offered for private tour bookings too. The Swiss outdoor activity runs from 9am to 5pm or 6pm but timings are flexible if needed
The Swiss sightseeing experience begins by heading to Iseltwald, a traditional small village by the picturesque lake of Brienz, and involves a stroll around. Next is the famous Giessbach waterfalls above the lake of Brienz where you can see the 14 waterfalls, visit the "magical place museum" or relax on the terrace of the historic Swiss Grand hotel Giessbach.
Afterwards you take Europe's older funicular down to the lake, where you take a boat trip across the lake to Brienz for lunch. After lunch discover traditional chalet houses, stroll around the lake promenade where you can buy some typical cow souvenirs from the local wood manufacturer.
The Switzerland lake and gorge tour then involves a short drive to Meiringen and the Aare Gorge. The Aare Gorge can be seen by stepping down several metres into the gorge or hiking for 45 minutes through and leaving in the next valley.
Our Swiss outdoor activity's final stop is the lake of Thoune, at the Neuhaus harbour of Interlaken where you can enjoy afternoon tea or aperitiv as you watch the sunset and enjoy the last view point. 
Booking Tips:
• Full day activity
• Customisable group sizes and timings
• Off-the-beaten-track adventure
Contact our destination specilialists to book this Switzerland tour for you and your guests