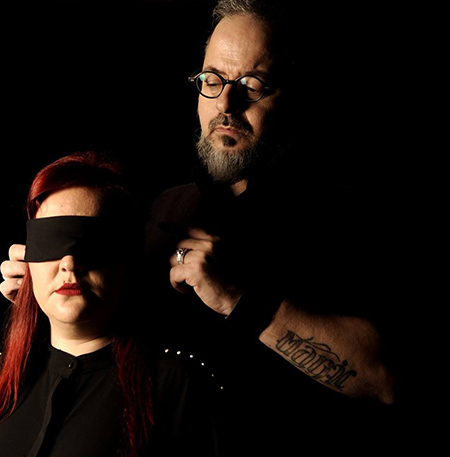 Telepathy Duo
Mind-blowing mental communication act performed by two experienced telepaths who can read your audience's minds
Event mental games that make viewers reflect on the power of the mind and causes jaws to drop
Telepathy magic duo reached Greece Got Talent final and have participated in numerous national TV shows ever since
Perfect stage magic entertainment for receptions, weddings, resorts, and many more!
This Telepathy Duo is based in Athens and available for bookings in Greece and worldwide
Are you looking for stage magic entertainment that truly causes jaws to drop? Then look no further! This Telepathy Duo is guaranteed to blow your event guests' minds with their incredible mental communication act. 
A performance that will leave people reflecting on the power of the mind, the act delivered by this telepathy magic duo always get people talking. Specialists in mental communication, this duo consists of two mind readers who can read cards, dice, numbers and even your audience's thoughts…even when they're blindfolded! 
An act that reached Greece Got Talent semifinals, our telepaths left both audiences and the panel of judges wide-eyed with their superhuman talent. Having performed all across Greece, this unique duo have impressed both small and large crowds nationwide. They have also participated in numerous TV shows and festivals.
Able to fully adapt to different performance spaces and types of audiences, our telepathy magic duo can perform in different stages both indoors and outdoors. An act that fully catches the attention of everyone in the room, the event magic games our telepaths perform never fail to impress!
Well suited for a wide range of occasions, this telepathy act is a popular stage magic entertainment option for gala dinners, ceremonies, corporate evenings, receptions, weddings, resorts, and many more! Our telepaths have performed at big venues all over Athens and continue to impress viewers every week with their event mental games.
Top Tip:
For an added element of tech excitement our telepathy performers can also dazzle you with their spectacular iPad/tablet magic.
Scarlett Entertainment offers a variety of stage magic entertainment for events in Athens, Greece and internationally. 
Enquire about this fantastic Telepathy Duo by contacting us today. Our in-house team of Entertainment Experts will be more than happy to answer all the questions you may have about this mental communication act and assist you in the booking process.
BMW Greece
Divani Caravel Hotel
Hard Rock Café Greece
Novartis
SKAI TV
TeDx
ANT1 TV
Disney Greece
El Convento Del Arte
MEGA TV
Roche
Ster Cinemas
Athens Science Festival