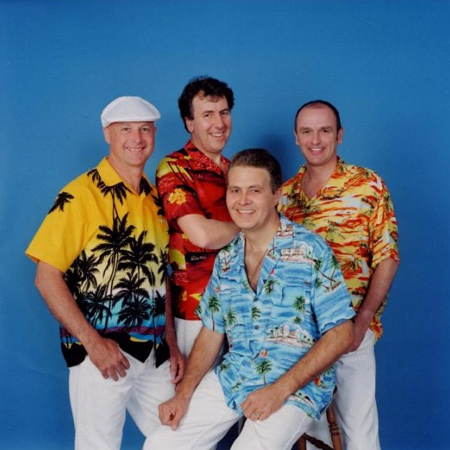 The Beach Boys Tribute
The only tribute band to have performed with the original Beach Boys!
Authentic live performances that sound just like the original recordings
Perform at festivals, theatres & for prestigious blue-chip companies
Have established themselves as one of the UK's top Tribute bands
Based in Norfolk and available to perform at worldwide events
The Beach Boys Tribute PHOTOS
Keeping the Summer alive all year round are this Norfolk based Beach Boys Tribute act.  Formed in 2002 they are the only tribute act to have appeared with the original Beach Boys themselves.
The group have performed at top venues, theatres and major festivals, they re-create the superb sounds of Brian Wilson and The Beach Boys, performing completely live without tracks or artificial backing, giving a true representation of live music.
The band have a huge amount of experience in all types of venues from hotels to theatres. They are available in the UK and Internationally for venues suitable for a truly professional show, with excellent credentials from the very best clients.
The band have now established themselves as one of the UK's top tributes and are featured at many leading festivals and theatres, and for many satisfied clients at prestigious "blue-chip" corporate events.
I GET AROUND
SURFIN'
DARLIN'
LITTLE DEUCE COUPE
CATCH A WAVE
WOULDN'T IT BE NICE
DANCE DANCE DANCE
AND YOUR DREAM COMES TRUE
GOD ONLY KNOWS
HELP ME RHONDA
KOKOMO
SLOOP JOHN B
SURFER GIRL
YOU'RE SO GOOD TO ME
ALL SUMMER LONG
SURFIN SAFARI
CALIFORNIA GIRLS
WENDY
SURF CITY
COTTONFIELDS
BREAKAWAY
SURFIN' USA
HEROES AND VILLAINS
LADY LINDA
FUN FUN FUN
LITTLE OLD LADY FROM PASADENA
DON'T WORRY BABY
BARBARA ANN
THEN I KISSED HER
GOOD VIBRATIONS
I CAN HEAR MUSIC
DO IT AGAIN
LITTLE HONDA
SAIL ON SAILOR
SHUT DOWN