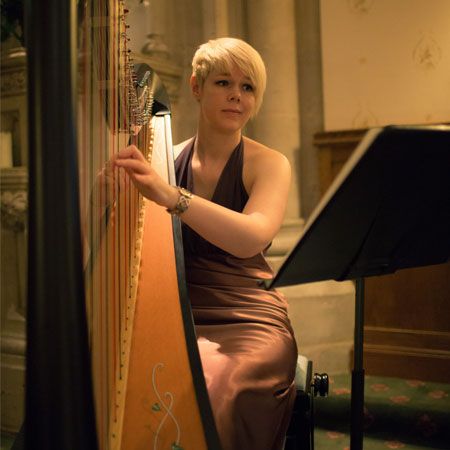 Traditional Female Harpist
Virtuoso playing will create a magical atmosphere at any event
Stunning matt black Pilgrim Malvern pedal harp offers a modern aesthetic
Extensive repertoire inc. traditional harp music and modern adaptations
Can accommodate both small and large venues with 2 harp sizes
Based in Hong Kong and available to perform at events worldwide
Traditional Female Harpist PHOTOS
Lizzie is a talented professional harpist, harp teacher and piano teacher available to perform at events around the world, though currently based in Hong Kong.
Lizzie has been studying and playing the harp since the young age of 16 and her passion and love for this beautiful instrument clearly shows in her stunning live performances. Providing enchanting music for weddings, special occasions and corporate events she plays from an extensive repertoire that not only encompasses traditional harp music but also modern harp adaptions of songs by the likes of Coldplay and Elbow. Showcasing the wide musical potential of this elegant instrument. In addition to her established repertoire, Lizzie can also create custom arrangements of your favourite song on request.
Playing with a matt black Pilgrim Malvern pedal harp, you don't have to worry that having a harp at your event will bring a dated aesthetic – quite the opposite Lizzie's harp is incredibly stylish. She also has a smaller Clarsach lever harp, which is ideal for smaller venues with its sleek compact design.
Lizzie is an expert at providing magical background music as well as giving centre stage performances. Able to adapt her performances from the music she plays to the look of her harp, she will be a really impressive musical addition to your event.
Classical:
Adagio - J S Bach
Arabesque No. 1 - Debussy
Largo from New World Symphony - Dvorak
Morning Mood - Grieg
Arrival of the Queen of Sheba - Handel
Largo - Handel
On Wings of Song - Mendelssohn
Canon in D - Pachelbel
Rhapsody on a Theme of Paganini - Rachmaninov
Traumerei - Schumann
Bridal Chorus - Wagner
My Lagan Love
The Nightingale
Down by the Sally Gardens
Fhear a'Bhata
Carolan's Draught
Merch Megan
Jazz Standards:
Our Love is Here to Stay
Someone to Watch Over Me
Embraceable You
Ain't Misbehavin'
Misty
Film and Show Music:
Music from Harry Potter
Music from the Phantom of the Opera
Theme from Pride and Prejudice
Theme from the Deerhunter
Theme from Downton Abbey
A Great Big World - This Is The New Year
The Beatles - All My Loving
Ben Folds - The Luckiest
Birdy - Skinny Love
Bruno Mars - Just The Way You Are
Bryan Adams - Everything I Do
Christina Perri - A Thousand Years
Coldplay - Paradise
Corinne Bailey Rae - Like A Star
Elbow - One Day Like This
Ellie Goulding - Your Song
Gotye - Somebody That I Used To Know
John Legend - All Of Me
Lionel Richie - Endless Love
Lorde - Royals
Michael Buble - Everything
Michael Buble - Haven't Met You Yet
Norah Jones - Come Away With Me
Regina Spektor - Samson
Roberta Flack - The First Time Ever I Saw Your Face
Snow Patrol - Chasing Cars
Taylor Swift - Love Story
Train - Soul Sister
Bach/Gounod - Ave Maria
Birdy - Skinny Love
Ellie Goulding - Your Song
Eva Cassidy - Over The Rainbow
Gabrielle Aplin - The Power Of Love
Ingrid Michaelson - Can't Help Falling In Love With You
From "Nine" - Unusual Way
Tori Amos - 1000 Oceans
Trad. - My Lagan Love
From "West Side Story" - One Hand, One Hear
Prelude in C - J S Bach
Jesu, Joy of Man's Desiring - J S Bach
Clair de Lune - Debussy
Cantique de Jean Racine - Faure
Air from "Water Music" - Handel
Sarabande - Handel
Meditation - Massenet
Wedding March - Mendelssohn
Hornpipe - Purcell
The Swan - Saint-Saens
Winter - Vivaldi
Traditional/Celtic:
She Moved Through The Fair
The Lark in the Clear Air
The Parting Glass
Carolan's Dream
Shenandoah
The Banks of the Suir
A Nightingale Sang in Berkeley Square
'S Wonderful
Lady Be Good
My Funny Valentine
Moon River
Over the Rainbow
Music from the Lord of the Rings
Music from Disney Films
Somewhere - West Side Story
Theme from Forrest Gump
Theme from Pixar's Up
Contemporary Pop
Adele - Make You Feel My Love
The Beatles - All You Need Is Love
Beyonce - Halo
Bon Jovi - Always
Bruno Mars - Marry You
Christina Perri - Arms
Coldplay - Clocks
Coldplay - Viva La Vida
Cyndi Lauper - Time After Time
Ellie Goulding - Starry Eyed
Fleetwood Mac - Songbird
Jack Johnson - Better Together
Lady Gaga - You And I
Lily Allen - Somewhere Only We Know
The Lumineers - Ho Hey
Michael Buble - Lost
Muse - Unintended
Owl City - Fireflies
Regina Spektor - Us
Shania Twain - From This Moment
Sting - Fields of Gold
Taylor Swift - Safe & Sound
Voice And Harp:
Ben Folds - The Luckiest
Corinne Bailey Rae - Just Like A Star
Eva Cassidy - Fields Of Gold
Fleetwood Mac - Songbird
Handel - Silent Worship
Lily Allen - Somewhere Only We Know
Regina Spektor - Samson
Trad. - Black Is The Colour
Trad. - The Water Is Wide
" Lizzie was absolutely lovely and had taken the time to ask me what the colour scheme was for the day so she could dress accordingly. How very thoughtful of her. Her repertoire was very varied, from the Beatles to classical music, and was perfect. My niece and her new husband, together with our guests, really enjoyed Lizzie's playing. The most magical and memorable piece of music for us all was when she played "Let It Go" from the film Frozen, and our grandchildren sang along with Lizzie. A tear-jerking moment! Lizzie was a real star and we enjoyed every moment! "

Linda Cooper, August 2014
" Thank you so much for playing at our wedding! You were absolutely amazing and you played everything perfectly that we requested. I just wish I could go back and listen to you play again! Honestly, we can't thank you enough and are so glad we found you to play on our special day. "

Jason and Lauren Bonthuys, August 2014
" Wow! Thank you so much for playing at our wedding. It sounded fantastic and your contribution to the day was absolutely stunning. We received a lot of really good comments about your playing. A massive THANK YOU from us both. "

Lynda and Graham Allerton, April 2014
" Thank you so much for playing the harp so beautifully at our wedding. We loved it and so did all our guests. Definitely added a nice touch to the ceremony. Thank you very much again! "

Jen and Steve Goodwin, February 2014