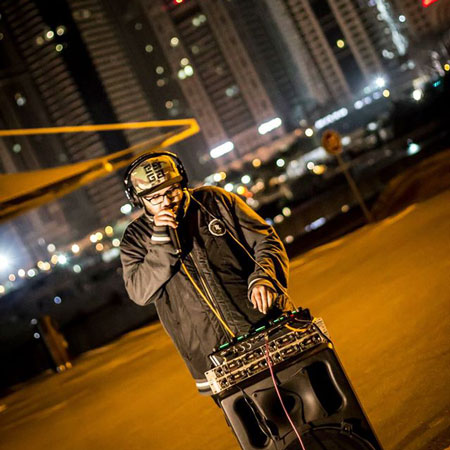 UAE Beatboxer
Exceptional live entertainment from and Incredible beatboxer
Talented vocal loop artist creates amazing sounds with layers with beatboxing
Perfect urban entertainment our beatboxer specialises in dubstep, grime, and drum & bass
Official Middle-East Vice Beatbox Champion 2010
Based in Dubai and available internationally
Scarlett Entertainment prides itself on being at the forefront of the entertainments industry with a finger on the pulse when it comes to popular trends. Beatboxing is rapidly growing into a really popular and sought after form of urban entertainment for corporate events, parties and club shows all over the world. Our beatboxer is very proudly United Arab Emirates's only pure electro beatboxing artist. With over five years experience he is incredibly talented and immaculately skilled at creating dubstep, grime, electro and drum & bass sounds with just his mouth!
This brilliant artist is capable of freestyle beatboxing, impressing the crowd with his off the cuff skills, which is ideal for anyone seeking exciting urban entertainment. Alternatively, he is a fascinating vocal loop artist making for really fun live entertainment for any type of occasion. Using loop pedals he layers up vocal sounds and beatboxing to create impressive and textured songs and delivers gan exhilarating performance.
Our UAE beatboxer also specialises in Hip Hop and jazz. On many occasions he has acted as the rhythm section along with other live musicians adding a real contemporary feel to the live entertainment.
Recognised as the unofficial Middle East Beatbox Champion 2012 and the official Middle East Vice Beatbox Champion 2010 our beatboxer has also shared stages with Foreign Beggars, De La Soul, Erykah Badu and Keith Murray and is no stranger to UAE's underground music scene.
Previous clients include Blackberry and Kodak, collaborated with local brands Sho? and B Grade. He has also appeared at several top end events like the 2009 FIFA Club World Cup in Abu Dhabi, The opening ceremony of the Yasalam events in Yas Marina Hotel and at the Dubai Culture & Arts Authority.
A very capable beatboxer or vocal loop artist capable of tailoring his skills to suit your event. He is renowned for his skills and abilities. So, do not hesitate to get in touch with one of our team at Scarlett Entertainment and enquire about booking this UAE beatboxer for your event or party!