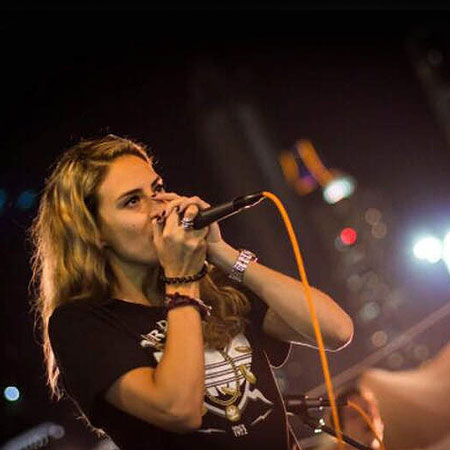 UAE Female Beatboxer
Young talented female beatboxer specialising in hip hop and early 2000s music
Vocal loop artist can layers beats and sing over the top
Innovative performance with beatboxing and tabla with Arabic songs
Winner of the UAE/MENA Got Talent and participant of Arab's Got Talent
Based in Dubai and available for events throughout the Middle East
UAE Female Beatboxer PHOTOS
Our UAE Female Beatboxer and vocal loop artist can provide your event and guests with a different an unique kind of live music. Using nothing but her vocal talents alone she creates exciting beats with the addition of singing. this contemporary and modern beatboxing artist is perfect for impacftul performances.  
Originally from Canada and Egypt and now based in the UAE, the female beatboxer passionately recreates a range of hip hop and early 2000s songs mixed with original beats. Putting an inventive twist on beatboxing live music she also has a performance involving beatboxing and live playing of the tabla where she rearranges classical oriental and Arabic songs. The vocal loop artist also uses a pedal to loop layers of beats and sounds so she can sing over the top. 
Aside from live music at a variety of events, the UAE Female Beatboxer is the Winner of the UAE/MENA Got Talent competition and is a former participant of Arab's Got Talent. She is regularly seen at a range of location in and around Dubai and often collaborates with live musicians.  
Requiring very little in terms of equipment, the female beatboxing champ is a fantastic choice of live music for any event spaces that cannot accommodate a full band. Even her genre-fusing Arabic tabla shows can be set up in almost any location.
Speak to our team of Entertainment specialists about booking the UAE Female Beatboxer and for helpful consultations on booking our entertainment to create an unforgettable live music experience at your event.