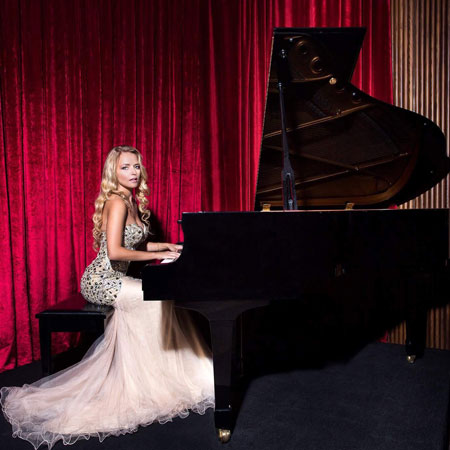 UAE Female Singer
Sophisticated, elegant and versatile female singer
Able to perform solo, whilst playing piano or with other musicians
Her repertoire is busting with Jazz, pop, soul, Latin-Jazz and Bossa Nova
Perfect for dinner parties, private parties, hotels and corporate entertainment
Based in Dubai and available throughout the UAE
The exceptionally stunning and sophisticated UAE female singer is your golden ticket to exceptionally elegant live music entertainment around the United Arab Emirates. The freelance vocalist has an exceptionally good voice enabling her to be able to sing many types of cover songs spanning across many multiple genres.
The highly talented female singer is incredibly passionate about delivering a high-end memorable experience for her audience and therefore offers a wonderful range of setlist options to tailor to client requirements. Our freelance vocalist is brilliant female pianist who is able to deliver laid back, ambient solo performances whilst playing the piano. Our UAE female singer can perform along to backing tracks or with the addition of local musicians for an astounding live music performance. 
Our female vocalist has a strong musical background and a degree in music. She is not only professional singer and established female pianist but very emotional in her performance. Her live music shows can be tailored to specific events drawing songs from her extensive repertoire and covering a range of Jazz, pop, soul, Latin-Jazz and Bossa Nova. The versatile UAE singer is able to perform songs in English, French, Italian, Spanish, Portuguese, Russian and even in Chinese.
Able to offer a wide variety of live music options from different styles to different line ups, our superb UAE female singer is a brilliant choice to entertain guests at a dinner party, private event, hotel bars or corporate events.
Speak to our team at Scarlett Entertainment to book the amazing freelance vocalist for your next event.
A day in the life of a fool
Ain't no sunshine when she is gone
All at once
All the things you are
All u ask of you
Angels
Aqua de beber
As
As time goes by
At last
Autumn leaves
Because of you
Bewitched
Blame it on the sun
Blue bossa
Bye bye Black bird
C'est si Bon
Can't take that away from me
Cheek to cheek
Corcovado
Cry me a river
Desperado
Diamonds are the girls best friends
Don't explain
Don't know why
Dream a little dream
Dreams fleetwood Mac
Feel like making love
Feeling good 88
Fever
Fields of gold
Fly me to the moon
For sentimental reason
For the love of you
Four
Fragile
Game of love
Girl Fromm Ipanema
God bless the child
Greatest love of all
Hands jewel
Hero
Histoiria de une Amor
Home
Honeysuckles rose
How do I live
How high the moon
How insensitive
I believe I can fly
I can't take my eyes off of you
I just call to say I love you
I will wait for you
I wish you love
I'm almost over you
Imagine
Isn't she lovely
It don't mean a thing
Je taime Bm
Just the two of us
Just the way you are
Killing me softly Am
Kiss of life
La vie in rosé
Lady in the tramp
Lady wants to know
Lately
Let it be
Let the be love
Let's stay together
Look of love
Love
Loving you
Lullaby of birdland
Masquarade
Misty
Mona Lisa
Moon river
My chery Amor
My funny valentine
My heart will go on
My one and only love
Nearness of you
New York
Nigh and day
No regrets
Nothing gonna change my love for you
One and only
One note samba
Ordinary people
Overjoyed Samba
Perhaps
Pocker face
Price tag
Put your head on my shoulder Ab
Put your records on
Rock with you
Rolling in the deep
Route 66
Run to you
S wonderful
Sabor ami
Save the best for last
September bossa
Sky fall
Smile
Smooth operator
So danco samba
Solamente una bez
Solitude
Someone like you
Someone to watch over me
Somewhere over the rainbow
Somos novios
Straight up and fly right
Street life
Summer samba
Summertime
Sway
The way you look tonight
Through the fire
Time after time
Turn me on
Umbrella
Waters for march
Wave
What are you doing the rest of your life
When I fall in love
When you tell me that you love me
Windmills of your mind
You are beautiful
You don't know me
You gotta be
Young and beautiful
Your my everything
Lobby Music:
A day in the life of a fool
All about that bass
Autumn leaves
Blame it on the sun
Blank space ( T. Swift)
Cant feel my face Am
Cheap thrills
Cold water ( Bieber)
Corcovado
Dear future husband
Don't know why
Feel like making love
Fields of gold
Fly me to the moon
Four
Free - Marcus Miller
Game of love
Get it together
I can't take my eyes off of you
I wish you love
It don't mean a thing
Just the two of us
Just the way you are
La vie in rosé
Lately S. wonder
Lean on
Let the be love
Let's stay together
Lips are moving
Love never felt so good
Love that will last
Love yourself
Lullaby of birdland
Moondance
My chery Amor
One note samba
Overjoyed Samba
Really Love
Rock with you
Sabor ami
September bossa
Shape of you Ed SheeranCm
So danco samba
Stand by me
Sunday morning
Tell me all about it
Treasure
Wave
We don't talk anymore
You are beautiful
You gotta be
You're beautiful ( J. blunt)
Spanish & Portuguese:
Abrazame - Laura Fugi
Apuro Dolor Salsa
Bachata En Fukuoka Juan Luis Guerra
Baila Casanova
Besame Mucho
Blue Bossa ( Portuguese)
Corcovado
Desafinado
Disse Alguem (al of Me)
Falsas Esperanzas - Cha Cha
Garota De Ipanema
Historia De Une Amor
Insensatez
Juancito Trucupey Celia Cruz
La Negra Tiene Tumbao Celia Cruz
La Puerta
La Vida Es Un Carnaval Celia Cruz
Masquenada
Mujer Latina - Thalia
Mujer Latina Thalia
No Me Ames
Oye Como Va
Que Le Den Candela Celia Cruz
Quimbara  - Celia Cruz
Quisas Quisas Quisas
Rie Y Llora Celia Cruz
Sabor a Mi
Si Ya Se Acabo -j.lo
So Danco Samba
Solamente Una Vez
Somos Novios
Stand Y Me - Bachata Prince Royce
Todo Mi Amor Eres Tu (i Just Cant Stop Loving You)
Triste
Tristeza
Una Aventura - Grupo Niche
Vivir Mi Vida
Wave (portuguese Sozigno)
You Are Not Alone - Bachata
General Repertoire: