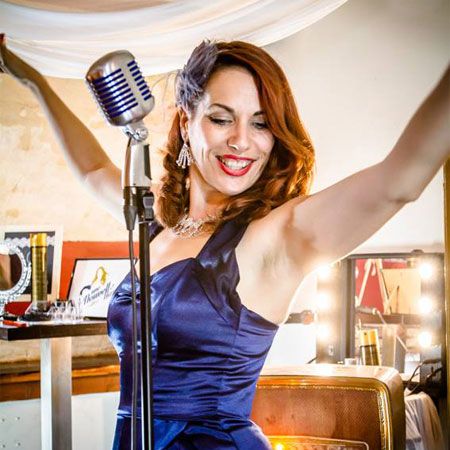 Vintage Swing Singer
Pencil skirts, red lips & sweet vocals take audiences on a vintage journey
Repertoire inc. Cole Porter, Gershwin, Peggy Lee, The Andrews Sisters
Offers a range of costumes & themed shows inc. Christmas!
Perfect for weddings, private parties, festivals, corporate dinners..
Based in France & available to perform at events worldwide
Vintage Swing Singer VIDEOS
Vintage Swing Singer PHOTOS
Sophie is passionate about all things vintage and jazz. She grew up listening to her father's old records of the Rolling Stones, Creedance Clearwater Revival and The Beatles and first discovered jazz when watching the film 'New York, New York' when she became enamoured with Liza Minnelli's glamorous dresses and rendition of 'You Brought A New Kind Of Love To Me'.
Since that early time, Sophie has gone on to create a stunning vintage show that will transport audiences back to a time of glitz, glamorous and swinging jazz tunes! With pencil skirts galore, red lips, vintage microphone and sweet vocals, Sophie takes to the stage singing songs by Cole Porter, Gershwin, Peggy Lee and The Andrew Sisters. She has a range of stunning costumes and retro props that clients can choose from to complete her irresistibly vintage show. Sophie can even offer a charming retro chic Christmas set.
Sophie's performance will leave nothing to be desired. Sophie creates a classy atmosphere for all to enjoy at weddings, private parties, corporate dinners, vintage themed events and festivals.