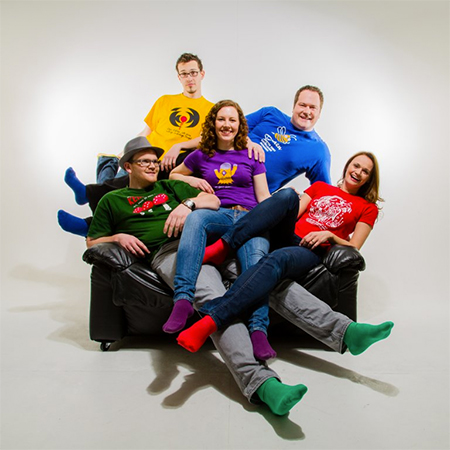 A Cappella Singing Quintet
Five harmony singers using the best instrument they have: their melodious voices
Offer a live music performance that can be customised to meet any event's needs
Deliver stunning vocal arrangements and sing famous pop songs and also their own compositions
Have performed at the International A Cappella Week in Hannover among other events and festivals in Europe
Book this A Cappella Singing Quintet for bookings in Austria and worldwide
A Cappella Singing Quintet VIDEOS
A Cappella Singing Quintet PHOTOS
With no other instrument than their prodigious voices, this A Cappella Singing Quintet is guaranteed to make listeners' hair stand on end. Consisting of three male and two female vocalists, this group of five harmony singers offer a live music performance that will provide guests at your upcoming event or special celebration with unforgettable memories.  
Our A Cappella Singing Quintet is well-known for their vibrant and colorful performances. They will always create a show that adapts to your event's requirements by customising their set list, which includes some famous pop songs and also their own compositions. On top of that, these five harmony singers can also perform songs on request including national anthems, which are especially demanded by sports events and national festivities.
Suitable for a wide range of occasions, their wide repertoire is meant to satisfy different type of tastes and audiences from different countries. That's why it's possible to choose between songs in both German and English from their set list.
Always delivering stunning vocal arrangements, our five harmony singers always make of every event they preform at an occasion to be remembered. The special bond they share and the special connection they have always allow them to create a pleasant and unbeatable atmosphere, whatever the occasion.
These talented stage performers have already captivated audiences in both small and large venues across Europe. Among the famous events and festivals they have performed at, the International A Cappella Week in Hannover, the Theatron Musiksommer in Munik and VoiceMania Festival in Vienna stand out.
If this A Cappella Singing Quintet seems like the perfect live entertainment option for your event or party, don't wait anymore and contact us today.
Our amazing team of entertainment specialists will be more than happy to answer all your questions and guide you through the booking process. 
A Minute on Your Lips - the Real Group
All About That Bass - Meghan Trainor
Angels - Robbie Williams
Auf Uns - Andreas Bourani
Beautiful - Christina Aguilera
Blurred Lines - Robin Thicke
Count on Me - Bruno Mars
Der Mond - Rocko Schamoni
Du Du Du - Die Echten
Feuerzeug - Basta
Groovy Kind of Love - Phil Collins
Ham Kummst - Seiler & Speer
Happy - Pharrell Williams
Happy Birthday - Stevie Wonder
Heidi Meets Africa - Lala
Hey Ya - Outkast
Hijo De La Luna - Mecano
I Feel Good James - Brown
I See Fire - Ed Sheeran
It's Alright - Huey Lewis
Jetzt Geht's Los - Own Composition
Jodler Medley - Own Composition
Keep Breathing - Ingrid Michaelson
Madness - Muse
Madrigal - Basta
Michael Jackson Medley - Michael Jackson
Nö Landeshymne - Beethoven+
Run to You - Pentatonix
Somebody I Used to Know - Pentatonix
Sunrise Norah - Ones
That Man Caro - Emerald
The Grass Grows Greener - the Real Group
The Way I Am - Ingrid Michaelson
Weh Tau - Hmbc
Wir Hatte Eine Gute Zeit - Wise Guys
Wochenschau - Own Composition
Zieh Die Schuhe Aus - Roger Cicero
International Pop
As Lately We Watched - Christmas Gospel
Carol of the Bells -  Pentatonix
Deep River - Traditional
Des is Weihnacht Für Mi - Ptx (german Version)
Es Wird Scho Glei Dumpa - Traditional
Follow That Star
Frohe Weihnacht (chestnuts) - Own Composition
I Believe - Own Composition
Jingle Bells
Jodler Medley - Traditional
Lullabye - Billy Joel
Milk - U2
Oh Heiland - Own Compostion
Oh Holy Night - N'sync
Oh Radiant Dawn – Classical
Preis Und Ehr - Own Composition
Rockin' - Christmas Medley
Sie San Der Klaus - Wienerlied
That Lonesome Road
Waun I Ruhig Wer'n Wü - Own Composition
Wexford Carol
Winterwunderwald - Maybebop
Christmas Songs
" This group is a sparkling a cappella band with terrific solo voices, which are able to deliver sensual melancholy as well as thrilling beats – everything you want to experience at a concert. Go and listen, it's worth it! "

Erik Sohn (Coach of Wise Guys)
" They are the most cordial, groovy and harmoniously sounding group I worked with in a while. To work with them and listen to them is pure joy! "

Felix Powroslo (Coach of Maybebop and Wise Guys)
" They are my new benchmark for the love of making music together. Besides, they are smashing people! "

Oliver Gies (Maybebop)