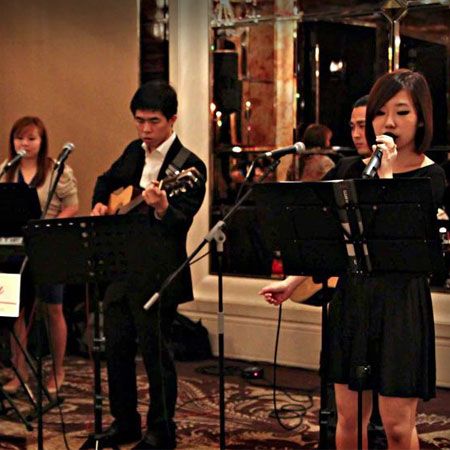 Acoustic Covers Band
Get that 'unplugged' sound with this amazing acoustic covers act
Provide beautiful live music for a range of special occasions
Comprised of a team of established musicians with both male/female vocals
Perform a range of musical styles including pop, bossa nova and jazz
Based in Singapore & available to perform at events worldwide
Acoustic Covers Band PHOTOS
Get that 'unplugged' sound with this amazing acoustic covers act!
This Singapore based acoustic covers band is comprised of a team of established musicians and creative arts talents performing live band & string music of a wide variety of genres professionally for weddings, corporate functions and social events. 
This band can provide beautiful live music for a range of special occasions.  With both male and female vocals the band performs musical styles including pop, bossa nova and jazz from a variety of eras.
At Last
Cheek To Cheek
Close To You
Dream A Little Dream Of Me
Fallen
Fly Me To The Moon
Have I Told You Lately
I Can't Take My Eyes Off You
Isn't She Lovely
I Wish You Love
Just The Way You Are
Let There Be Love
Lovers Concerto
L.O.V.E.
Moon River
My Girl
Nothing's Gonna Change My Love For You
Quando Quando Quando
Some Kind Of Wonderful
Sometimes When We Touch
Sunshine Of My Life
The Autumn Leaves
The Way You Look Tonight
Unforgettable
Way Back Into Love
When I Fall In Love
Wonderful Tonight
You Light Up My Life
Valentine
A Whole New World – Aladdin soundtrack
All My Life – K-Ci & Jojo
Back At One – Brian McKnight
Chasing Cars – Snow Patrol
Don't Know Why – Norah Jones
Every Breath You Take – The Police
From This Moment – Shania Twain
Hey Soul Sister – Train
How Do I Live Without You – LeAnn Rimes
I Do (Cherish You) – 98 Degrees
I Just Haven't Met You Yet – Micheal Buble
If I Ain't Got You With Me – Alicia Keys
It Might Be You – Stephen Bishop
I Won't Give Up – Jason Mraz
Just the way you are – Bruno Mars
Love Me – Collin Raye
Love Story – Taylor Swift
Lucky – Jason Mraz
More Than Words – Westlife
Need You Now – Lady Antebellum
Now & Forever
Price Tag – Jessie J
Rest of Our Lives – Jeffrey Osborne
Rolling In The Deep – Adele
Stereo Hearts – Gym Class Heroes
Sunday Morning – Maroon 5- Bic Runga
Two Is Better Than One – Taylor Swift
Viva La Vida
Wonderful Tonight – Eric Clapton
You're Beautiful – James Blunt
Air on G – J S Bach
Arrival of the Queen of Sheba – G.F. Handel
Spring (1. Allegro) from Four Seasons (abridged) – Antonio Vivaldi
Ave Maria – Franz Schubert
I Dreamed A Dream from Les Misérables – Claude-Michel Schonberg
Memory from CATS – Andrew Lloyd Webber
Moon River; Henry Mancini
Gavotte from Orchestral Suite no.3 – J S Bach
Allegro from Eine Kleine Nachtmusik in G – W A Mozart
Jesu, Joy of Man's Desire – J S Bach
Suite from "The Nutcracker": Dance of the Reed Pipes, Waltz of the Flowers – Pyotr Ilych Tchaikovsky
Brandenburg Concerto No. 3, 1st mvt, abridged – J S Bach
Salut d'Amour – Edward Elgar
Por Una Cabeza; Carlos Gardel
Take Five; Paul Desmond
月亮代表我的心 The Moon Represents My Heart – Teresa Tang
今天你要嫁給我 'Today You Will Be Married to Me' – by David Tao and Jolin
天天 'Everyday' – by David Tao
可愛女人 'Cute Girl' – by Jay Chou
遇見'Encounter' – by Stefanie Sun
爱很简单 Love is simple – by David Tao
心中的日月 'The Sun and Moon of the Heart' – by Wang Lee Hong
你是我心內的一首歌 'You're a Song in My Heart' – by Wang Lee Hong and Selina
I Believe – Fan Yi Cheng
甜甜的 – 周杰伦 Jay Chow
你最珍贵 – 张学友 Jacky Cheung
制造浪漫 – 郑中基 Ronald Chang & 陈慧琳 Kelly Chen
关怀方式 – 陈汉伟 & 蔡礼连
梁山伯与朱丽叶 – Gary Cao & Genie Chuo
被風吹过的夏天
愛的就是你
世界唯一的你
写一首歌
Love Song
童话
許願
Can You Feel The Love Tonight
Come Fly With Me
Crazy Little Thing Called Love
Faithfully
Feel Like Making Love
Girl From Ipanema
How Deep Is Your Love
I Just Fall In Love Again
It Only Just Begun
Just The Two Of Us
Let's Stay Together
Longer
Loving You
Moondance
My Cherie Amore
Nature Boy
One In A Million
She
Somewhere Over The Rainbow
Stand By Me
Summertime
The Jailhouse Rock
Through The Years
Water To Drink (Agua De Beber)
We've Only Just Begun
When A Man Loves A Woman
You Are So Beautiful
You Needed Me
A Moment Like This – Kelly Clarkson
At The Beginning – Anastasia soundtrack
Amazed – Lonestar
Bless The Broken Road – Rascal Flatts
Collide – Howy Day
Everything – Michael Buble
Falling for you – Colbie Caillat
Grow Old With You – Adam Sandler
Home – Micheal Buble
I Do – Colbie Caillat
I Don't Want to Miss a Thing – Aerosmith
I Will Always Love You – Whitney Houston
In Love With You – Velasquez Regine & Jacky Cheung
I'm Yours – Jason Mraz
Just A Kiss – Lady Antebellum
Kiss Me – Sixpence None The Richer
Love On Top – Beyonce
Love Will Keep Us Alive – Eagles
Marry You – Bruno Mars
My Heart Will Go On – Celine Dion
Nobody But You (English) – Wonder Girls
Payphone
Put Your Records On – Corinne Bailey Rae
Right Here Waiting – Richard Marx
She Will Be Loved – Maroon 5
Straight From The Heart – Bryan Adams
Truly Madly Deeply – Savage Garden
Tonight I Celebrate My Love – Peabo Bryson & Roberta Flack
When You Say Nothing At All – Ronan Keating
You and Me – Olivia Ong
Wedding March – Felix Mendelssohn
Canon in D – Johann Pachelbel
Trumpet Voluntary – Jeremiah Clarke
Winter (2. Largo) from Four Seasons (abridged) – Antonio Vivaldi
Ave Maria – J S Bach/Charles Gounod
Don't Cry For Me Argentina from Evita – Andrew Lloyd Webber
Through The Eyes Of Love from Ice Castles – Marvin Frederick Hamlisch
New York, New York – John Kander
Allegro and Rondo from Sonatina 1 – Joseph Pleyel
Prince Igor – Alexander Borodin
Palladio, Allegretto – Karl Jenkins
Humoresque – Antonin Dvorak
Morning from Peer Gynt – Edvard Grieg
Spanish Dance; Isaac Albéniz
It's Only A Paper Moon; Harold Arlen
La Vie En Rose; Louis Gugliemi
甜蜜蜜- Teresa Tang
Forever Love – by Wang Lee Hong
至少還有你 'At Least There's Still You' – by Sandy Lam
屋頂 'Roof' – by Jay Chou and Jolin
簡單愛 'Sample Love' – by Jay Chou
就是愛你 'Only Love You' – by David Tao
唯一 'Only One' – by Wang Lee Hong
明天我要嫁给你了 – 周华建 Emil Chow
约定 – 周惠 Zhou Hui
愛你
小夫妻 – 欧得洋 Ocean Ou
选择 – 林子祥 & 叶倩文
爱得正好 – 苏永康 William Su & 陈洁仪 Kit Chan
人海中遇見你 (那些年,我們一起追的女孩)
恋爱达人
唯一
一眼瞬间
爱爱爱
復刻回憶
Love Love Love
戀愛頻率