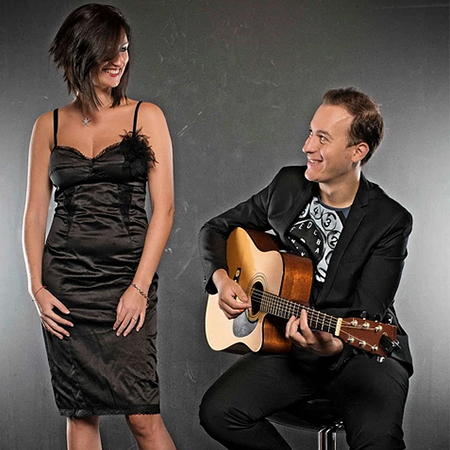 Acoustic Duo Verona
A talented female singer and skilled male guitarist offer a wide variety of pop, rock, Latin, Blues and Jazz covers
Multilingual performers can sing in Italian, English, Spanish, French and Chinese
Versatile live musicians perform acoustic covers from Adele and Maroon 5 to The Beatles and Eric Clapton
Have performed at many hotels, luxury resorts and cruise ships in Europe, Asia and Africa
Book Acoustic Duo Verona for events in Italy and booking all around the world
Acoustic Duo Verona PHOTOS
Looking for some live music entertainment for your upcoming event, party or special occasion? Then don't miss the opportunity to book this quality Acoustic Duo. Based in Verona, these versatile live musicians are available for international bookings. They can sing in many languages including their own and others such as English, Spanish, French and Chinese.
Comprised of one talented female singer and a skilled male guitarist, this acoustic covers duo has a wealth of experience playing at events of every size. Their talent, energy and wide repertoire have led them to perform in many countries in Europe, Asia and Africa, especially in hotels and cruise ships.
Their set list is a mix of different music genres designed to satisfy a wide range of tastes. No matter if your guests are pop, rock, Latin, Blues or Jazz lovers, our talented female singer – who also plays the 'cajon' - and skilled male guitarist perform a show that can be enjoyed by any type of spectator. A fantastic saxophone player can join them on stage for bigger gigs and events requiring additional musicians.
Our versatile live musicians' repertoire includes modern pop songs by Bruno Mars, Adele or Maroon 5; classic hits by The Beatles, Lionel Richie or Eric Clapton; Latin tunes such as 'Guantanamera' or 'Oye Como Va'; Italian songs like 'Tu Vo' Fa L'americano'; and Jazz and Blue covers of world-famous songs like 'Moonriver' and 'Somewhere Over The Rainbow'. This diversity, their talent and their powerful on-stage chemistry make them the ideal choice for different type of events including weddings, gala dinners, award ceremonies, fancy garden parties, and many more.
Providing a clean, diverse and unique sound, this amazing acoustic covers duo are guaranteed to suit your event's requirements and leave a lasting impression on listeners. Check their wide set list by clicking the tab above and see for yourself the variety of songs you can choose from. Besides, they will always tailor their show according to your preferences and will be happy to play any song on request.
At Scarlett Entertainment we pride ourselves to offer a wide diversity of talented cover bands and duos to provide you with the ideal live music entertainment for your event.
To book this superb acoustic duo, get in touch with our in-house team of entertainment specialists and make your enquiry today. 
All About That Bass - M. Trainor
All of Me - J. Legend
Billionaire - B. Mars
California King Bed - Rihanna
Grenade - B. Mars
Happy - J. Williams
Hello - Adele
I'm yours - J. Mraz
Just The Way You Are - B. Mars
Payphone - Maroon 5
Rolling in the Deep - Adele
She Will Be Loved - Maroon 5
Stay with Me - S. Smith
Sunday Morning - Maroon 5
Taking Out Loud - Ed Sheeran
Valerie - A. Winehouse
Why Georgia - J. Mayer
Classic Hits
A Say A Little Prayer - A. Franklin
Angels - R. Williams
Blackbird - The Beatles
Come Together - The Beatles
Easy - L. Richie
Hard Days Night - The Beatles
Heal The World - M. Jackson
Help - The Beatles
Here Comes The Sun - The Beatles
Hey Jude - The Beatles
Home - M. Buble
Hotel California - Eagles
How Sweet It Is To Be Loved By You - J. Taylor
I Don't Want To Miss a Thing - Aerosmith
I Have Nothing - W. Houston
Je Veux - Zaz
Little Piece of my Heart - J.Joplin
Man in the Mirror - M. Jackson
Mr Duke - S. Wonder
One Love - B. Marley
Purple Rain - Prince
She Loves You - The Beatles
Something - The Beatles
Tears in Heaven - E. Clapton
Time After Time - C. Lauper
What's Going On - M. Gaye
What's Up - 4 Non Blondes
While my guitar gently weeps - The Beatles
Wonderall - Oasis
Yesterday - The Beatles
You Are So Beautiful - J. Cocker
Your Song - E. John
Blues
Hit The Road Jack - R. Charles
Lay Down Sally - L. Richie
Layla - E. Clapton
Pride & Joy - S.R. Vaugan
Sitting On The Dock Of The Baby - O. Redding
Modern Pop
Comfortably Number - P. Floyd
Creep - Radiohead
English Man in New York - The Police
Every Breath You Take - The Police
I'm Ougtha Know - A. Morissette
Knockin' on Heaven's Door - The Doors
Little Wing - J. Hendrix
Message In The Bottle - The Police
One - U2
Stairway To Heaven - L. Zeppelin
Still Haven't Found - U2
Wild Horses - Rolling Stones
With Or Without You - U2
Latin
Besame Mucho
Cuando Calienta el Sol
El Talisman
Guantanamera
Historia de un Amor
La Bamba
La Camisa Negra
Oye Como Va
Perfidia
Quizas Quizas Quizas
Samba Pa Ti
Solamente una Vez
Tico Tico
Italian
La Prima Cosa Bella
Tell Me Quando Quando
Marina – Samba
Una Canzone Per Te - Vasco
Il Cielo In Una Stanza- Mina
Tu Vo' Fa L'americano - Napoli Song
Parole Parole - Mina
O Sole Mio - Napoli Song
Il Mio Canto Libero - Battisti
Un Bacio A Mezzanotte - Quartetto Cetra
Jazz
Autumn Leaves
Dream A Little Dream
Hello Dolly
It Don't Mean a Thing
Just The Way You Are
Moonriver
Somewhere Over The Rainbow
Summertime
Sympathique
What A Wonderful World
Rock
Grand Hyatt Hotel Seoul
Salinas Oasis
Costa Cruises
Melia Dunas
Slowear - Fashion Event
Crioula Hotel