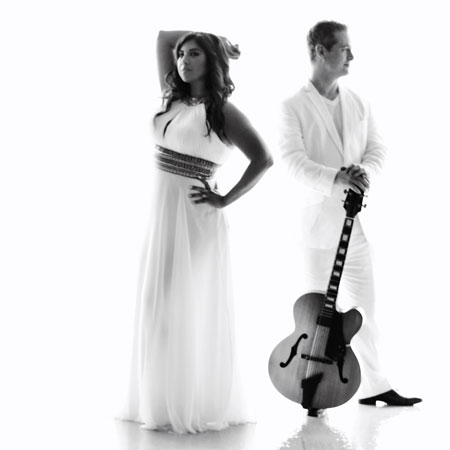 Acoustic Party Duo
Beautiful acoustic duo compliment each other through the use of a looping guitarist and soft female vocals
Acoustic background music perfect for all events and occasions
Party duo WOW guests with stunning vocals, instrumentals and contemporary set lists
Previous clients include Los Angeles Clippers, PayPal, Myspace, Virgin, Staples, the Four seasons and Beverly Wilshire.
Based in California and available for worldwide bookings
A stunning acoustic duo that works extremely well as a party duo as well as providing chilled acoustic background music and acoustic covers to give your guests a well-rounded and sophisticated performance. Ideal for any event or occasion where an atmosphere is required whether it be for up beat events to get people dancing or simply to sit back and enjoy listening to a looping guitarist and sultry vocals in the background.
Our looping guitarist creates layers of sounds from percussion to bass and rhythm guitar that together with the sultry and sophisticated voice of our female vocalist creates a truly beautiful and full sound that complement one another perfectly. Their performances recreate vibes from 90s R&B to hip hop and jazz and reform these popular genres through their own original style which is both classy and contemporary. 
Perfect for events that require luxurious high end entertainment during a cocktail hour, mix and mingle event, after dinner entertainment or anything in between. Our Acoustic Duo, provide the ultimate party entertainment as well as offering chilled music to create an atmosphere to suit your event. 
Having performed for previous clients such as, PayPal, Myspace, Virgin and the Four Seasons our duo can adapt their wonderful set list to suit your vision and provide entertainment that will add a new dynamic to your event. 
Scarlett Entertainment's extremely talented performers radiate sophistication, class and elegance as well as being able to get everybody in the room moving and dancing the night away to their gorgeous sound. 
Available as both a stage and roaming act our Acoustic Party Duo can perform as guests mix and mingle with one another and alternatively our duo can become a part of the action and roam around with your guests, playing their beautiful music as well as offering a more interactive performance.
To book this stunning duo or for more information please contact our Entertainment Specialists. 
Brand New Me - Alicia Keys
Butterflies - Michael Jackson
Crusin - Smokey
Earned It - the Weekend
Ex Factor- Lauryn Hill
Foolish - Ashanti
Girl on Fire - Alicia Keys
Glory Box- Portishead
Heart of the Matter- Don Henley
High & Dry- Radiohead
Human Nature - Michael Jackson
I Get So Lonely - Janet Jackson
No Scrubs - TLC C#
Omg - Usher Dmin
Pyt Mj
Rock with You - Mj Ebmin
Rolling in the Deep - Adele Cmin
Bag Lady - Badu Fm
Because of You - Neyo Ab
Can't Help Fallin in Love - Elvis
Here Comes the Rain- Amin
Holding Back the Years - Simply Red
Baby Baby Baby - Brandy
Pump Up The Jam- Technotronics
Rather Be- Clean Bandit
Rude Boy - Rihanna Ebmin
Send My Love - Adele
Shake It Off- Taylor Swift
Sir Duke - Stevie Bmaj
Soul Sister - Train
Sugar - Maroon 5
Suit and Tie - Justion Timberlake
Sumertime - Will Smith
Teenage Dream - Katy Perry
Tell Me- Groove Therory F#
The Way You Make Me Feel - Mj
This is How We Do It - Montell Fmin
Tightrope - Janelle Monae
Put Your Records On -  A
Rude - Magic
Single Ladies - Beyoonce
Sir Duke - Stevie Wonder-b
Sorry - Justin Bieber
Poison- Bel Biv Devo F#min
Centerfield
Los Angeles Clippers
Myspace
Southbay Magazine
Stubhub Center
Virgin
Beverly Wilshire Beverly Hills Four Seasons Hotel
Embassy Ballroom Championships
Mandalay Bay Resort and Casino
PayPal
Staples
The Resort at Pelican Hill
Wise
Casino Arizona Talking Stick Resort
" They cover the covers better than anyone else I've ever seen and, they're also terrific people on top of it. Totally professional, incredibly entertaining, and effortlessly able to adjust to their surroundings by providing a playlist that will specifically appeal to that audience. I can't say enough nice things about them. "

Courtney Cronin-Dold Writer, Creative Consultant MTV Shows
" For the MLS Cup game at the Home Depot the duo accepted our invite to perform in the Stadium Club prior to the event for all of our VIPS and premium seating clients. We received amazing feedback from our clients in which we have a very diverse cliental. Their performances really made the environment what it was. Not only are they very talented but have a high level of professionalism. I hope to have them back in our venue for future big events! "

Karina Gutierrez,  Coordinator, Premium Seating Services AEG
" Such impressive talent, stage presence and professionals. They are a delight to work with. I hired them for my wedding reception and my guests absolutely loved their song list, which included some of my requests as well. I would recommend them to anyone having an intimate event. I would hire them again in a heartbeat for any other event. "

Mia.P from Pacific Palisades, CA
" The guitar skills were flawless and the singer was an angel, her voice is incredible! The cover for 'Gin and Juice' left everyone in awe. They are both so professional and amazing performers! They definitely made the event that much more special and memorable. "

Liza. R from Los Angeles, CA