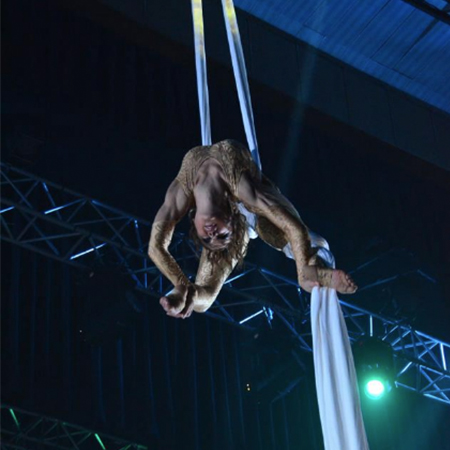 Aerial Silk Artist
A thrilling aerial performance by a female acrobat who is a master at aerial acts with silks
An aerial acrobatic dance suitable for audiences of all ages and especially loved by circus lovers
Can create new choreographies, adapt her outfits and perform with other artists to suit your event's requirements
Have performed in numerous events across Europe and Asia including Monaco, Lebanon and Dubai
Book this sensational Aerial Silk Artist for performances in Switzerland and around the world
Aerial Silk Artist PHOTOS
An emotive and breathtaking show, this aerial acrobatic dance is guaranteed to leave a lasting impression on everyone watching. This thrilling aerial performance is executed by a skilled Aerial Silk Artist who's a real master at performing aerial acts with silks. This show can be the perfect fit for your upcoming big event if some aerial circus entertainment is what you have in mind.  
A combination of flawless technique, balance and creativity, the beauty of this performance will make it impossible for viewers to take their eyes off this sensational female aerial acrobat while she performs her mind-blowing aerial acrobatics. Designed to be enjoyed by people of all ages, our aerial acrobatic dance is especially demanded by award ceremonies, gala dinners and corporate and sports events requiring a thrilling aerial performance. 
This talented circus performer can create customised choreographies for specific occasions and she can also adapt her outfits to fit your event's theme. Our versatile aerial acrobat can also perform to requested songs, so both her show and her costumes can be personalised to fulfil your expectations. Besides that, she always welcomes the opportunity to share the stage with other artists, so she can perform alongside dancers, actors or other aerialists and she could even create a choreography that can be included in theatre plays, as you can see in the videos above.
Our wonderful female aerial acrobat has plenty of experience performing both aerial and ground exercises, which she  combines in this thrilling aerial performance. She has captivated audiences of all sorts and ages with her mind-blowing aerial acrobatics and her emotive and captivating choreographies.
This Aerial Silk Artist has delighted audiences and circus lovers in many countries around Europe and Asia. Her thrilling aerial performance has been the entertainment choice at events in shopping malls, theatres and large venues in countries like Monaco, Lebanon and cities like Dubai. Check the tab above and see for yourself the list of happy clients our wonderful aerial silk performer has.
Booking an aerial acrobatic dance has never been so easy. Our in-house team of entertainment specialists will guide you through the booking process if you're interested in this phenomenal Aerial Silk Artist. 
Contact us today and make your enquiry.  
Auto Expo Zurich ( Zurich Switzerland)
Ballo del Doge ( Venice Italy)
Edeka Messe Munchen ( Germany)
One & Only Rheti Rhah New Years eve event (Maldives)
VW group event Auto Expo Frankfurt
Womanity Foundation Gala ( Geneve Switzerland)
ABC group events (Lebanon)
BWT Gala Event ( Austria )
Catrice Cosmetics L.O.V. Launch ( Frankfurt Germany)
Ferragosto di Venezia Hotel Excelsior
Pokerstars One Drop Foundation Gala for Guy Laliberte ( Monaco)
Venetian Carnival Teatro la Fenice
Audi auto  expo  ( Germany)