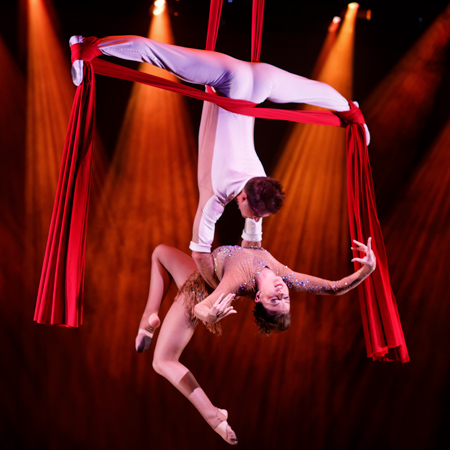 Aerial Silk Duo Ukraine
Stunning aerial silk show to wow audiences
Fascinating and elegantly choreographed acrobatic aerial dance
Tremendous and versatile circus entertainment for many events or occasions
Incredible acrobats with years of experience as circus acrobats
Based in Ukraine and available internationally
Aerial Silk Duo Ukraine PHOTOS
Book this breathtaking aerial silk show for a stunning performance that will wow your audience. The romantic and sensual performance from the male and female circus performers is full of passion and is an amazing display of talent. Viewers will be transfixed on the gravity defying acrobatic aerial dance and blown away by the incredible performance.
The carefully choreographed acrobatic aerial dance is stunning circus entertainment that is glamorous and mesmerising for audiences worldwide. The acrobats' aerial silk show is a beautiful visual story of the love between a man and a woman. A heartwarming love story intertwined with a highly skilled acrobatic aerial dance. The routine is so precise and professional carried out that it will make a lasting impact on your guests. It is backed by contemporary rock ballad soundtrack with a climactic ending that really adds to the drama and energy of the act.
The acrobats come immaculately presented in very stylish outfits that surpass ordinary expectations of circus entertainment. Artyom wears a stylish white outfits whilst Iryna wears a Svarovski covered skin colour body suit. The powerful, dynamic and graceful areal silk show is suitable to wow audiences at many types of events from gala dinners and corporate entertainment, to family shows and private parties.
Our professionally trained circus performers Artyom, who studied at the Kiev Circus School, along with his partner Iryna collectively have a lifetime's worth of experience and achievements. From circus tours in Russia and Saudi Arabia, winning acrobatics championships, extensive work on cruise ships and even teaching physical training, this duo are at the top of their game.
Get in contact with our amazing Scarlett Entertainment team of specialists to book this enthralling circus entertainment for your special event.
AIDA
COSTA
MSC
TUI Meis shiff
p.p1 {margin: 0.0px 0.0px 0.0px 0.0px; font: 12.0px Helvetica; color: #454545}