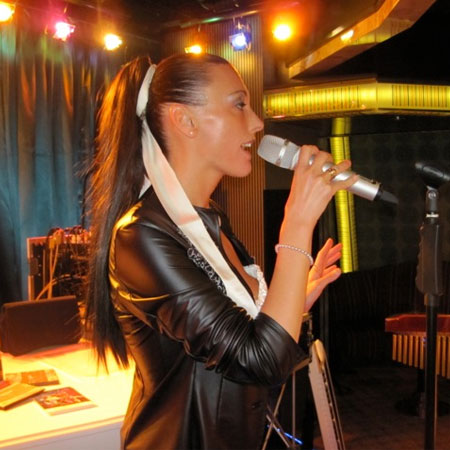 Asia Duo
Vocalist & percussion duo performing lounge and chill out music
Create a sophisticated ambience with chilled-out and stylish performance
Huge Repertoire of International and Italian songs
Highly recommended for corporate events, hotels, casino's, cruise ships
Based in Italy and available to perform at events worldwide
Scarlett Entertainment offers a range of Chill-Out style acts for your event, function or 'after-party'!  A popular and funky alternative to background jazz, our Chill-Out entertainment options are perfect for sunset sessions and cocktail hour.
Performing International and Italian songs, lounge and chill out music, this vocalist & percussion duo can help you to create a sophisticated ambience for your event with their chilled-out sound and stylish performance.  With a huge selection of songs, this versatile duo offers something for everyone, and will adapt their show to suit the audience.
Asia Duo consist of Roby Rello (musician, vocalist, drummer, percussionist) and Debyro (vocalist and percussionist) and together they have huge experience performing at corporate events, hotels, restaurants, private parties, casino's, cruise ships (Costa Crociere), piano bars, theatres and on television (RAI 1, RAI 2, Rete 4).
Contact one of our Entertainment Co-ordinators who will be able to assist you in booking this or any other act on our roster.
ONE - U2
ROSANNA - TOTO
THE POWER OF LOVE
deep flavour - ASIA
TAKE A BOW - MADONNA
SAVE A PRAYER - DURAN DURAN
I'LL FLY FOR YOU - SPANDAU BALLET
heart bossa - ASIA
WALKIN ON THE MOON - POLICE
CRAZY
WITH OR WITHOUT YOU - U2
FEELINGS ARE - ASIA
SHOUT
JOSEPHINE
WE ARE THE WORLD
THE LAZY SONG
DIAMANTE - ZUCCHERO
WE'LL ARRIVE ONE DAY - ASIA
WONDERWALL
NO WAY - ASIA
SMOOTH BEATS - ASIA
MY FRIEND - ASIA
LUCE
HOW  - ASIA
DIAXLE ASIA
ANYONE - ASIA
SONGS LIST/REPERTOIRE:
YOU ARE THE SUNSHINE OF MY LIFE ASIA
A NATURAL WOMAN A.FRANKLIN
ADAGIO
ALL BY MY SELF
BARRY WHITE YOU'RE THE FIRST THE LAST MY EVERYTHING
CABARET
CON TE PARTIRO' BOCCELLI
FANTASY
FEELINGS
FRANK SINATRA STRANGERS IN THE NIGHT
HERO MARYAH CAREY
JUST A GIGOLO
JUST THE WAY ARE
KILLING ME SOFTLEY
MICH. JACH.HEAL THE WORLD
MICHEAL BOLTON WHEN A MAN OVES A WOMAN
MY HEART WILL GO ON CELINE DION
MY WAY SINATRA
NO ORDINARY LOVE SADE
ONLY YOU
SEPTEMBER MORN
SMOKE GETS IN YOUR EYES
SMOOTH SANTANA
SOME DAY MY PRINCE WILL COME ASIA
SWAY MICHAEL BUBLE'
THAT'S AMORE
THE PRAYER
UNCHAINED MELODY
UNFORGETTABLE
WHITE CHRISTMAS GOSBY
WHY RANDY CRAWFORD
WOMAN IN LOVE BARBARA STRAISAND
YESTERDAY BEATLES
YOU MAKE ME FEEL
YOUR SONG ELTON JOHN
I WILL ALWAYS LOVE YOU
THE ISLAND BONITA MADONNA
OPENING THE NIGHT - ASIA
MISSIMG DANCE
LOVE RESURRECTION
EACH TIME DANCE
CHERI CHERI LADY
LIVING IN A BOX
TARZAN BOY
TOGETHER FOREVER
STOP LOVING ME
VENUS
NEVER GONNA GIVE YOU UP
LOVE ME FOREVER  - ASIA
LE FREAK  DANCE 70
LONG TRAIN RUNNING DANCE 70
GOOD TIME DANCE 70
I'M YOUR BOOGIE MAN DANCE 70
CELEBRATION DANCE 70
GET DOWN TONIGHT DANCE 70
GET DOUN ON IT DANCE 70
SEPTEMBER DANCE 70
UPSIDE DOWN DANCE 70
GOT TO BE REAL DANCE 70
THAT'S THE WAY DANCE 70
SHAKE SHAKE DANCE 70
YOU AND I BROMBERG
SUMMERTIME BROMBERG
MY FUNNY VALENTINE BROMBERG
G. MICHAEL CARELESS WHISPERS
E POI GIORGIA
POOH MIX
ARIA DI MEZZANOTTE
EARL LUGH 2
EARL LUGH
LARRY CALTON MUSIC
INCOGNITO MUSIC
BOSSA ASIA MUSIC
MAMBO ASIA MUSIC
E ANDATA COSI
KISS OF LIFE - SADE
Is It A Crime
KASSO SAMBA MUSIC
ALEJANDRO GAGA
POOH SE BALLA DA SOLA 1
NO ORDINARY LOVE SADE
BORN TO BE ALIVE
GIOCA JOUER CLAUDIO CECCHETTO
GOCCE DI MEMORIA GIORGIA
LADY MARMELADE PATTI LABELLE
MAMBO N5
MICH.JACH.BILLIE JEAN
P.GABRIEL SLEDGEHAMMER
STELLA MIA RON
SUPERSTAR JAMELIA
WAKA WAKA SHAKIRA
BAMBOLEO MIDLEY
I GOTTA FEELING BLACK EYED PEAS
MACARENA LOS LOCOS
SMOOTH OPERATOR SADE
SPAGNA CALL ME
SWEET DREAMS ARE MADE OF THIS ANNIE LENNOX
TINNAMORERO
ASEREJE LAS KETCHUP
EROS TERRA PROMESSA
GENTE DI MARE
NEVE AL SOLE RUGGERI
QUELLO CHE LE DONNE NON DICONO FIORELLA MANNOIA
VIVE CHI VIVE
Y.M.C.A. VILLAGE PEOPLE
AVRAI
CERCMI ZERO
EROS UN EMOZIONE PER SEMPRE
HIPS DON'T LIE SHAKIRA
SHOW PERFORMANCE:
UN' EMOZIONE PER SEMPRE EROS RAMAZZOTTI
ANCORA DE CRESCENZO
BEAUTIFUL CHRISTINA AGIULERA
BEE GEES STAYIN' ALIVE
DISCO INFERNO
EL TALISMAN
EROS LAURORA
IL BALLO DI SIMONE
IL GRANDE ASSENTE R. ZERO
IO VAGABONDO
OBSESION AVENTURA
QUANDO PINO DANIELE ASIA
BEE GEES YOU SHOULD BE DANCING
DON'T LEAVE ME THIS WAY
DRAGOSTEA DIN TEI HAIDUCII
KALIMBA DE LUNA TONY ESPOSITO
LAMBADA
LET'S GET LOUD JENNIFER LOPEZ
SIMPLY RED SUNRISE
WHEREVER WHENEVER SHAKIRA
GIMME HOPE J'OANNA
LA MIA BANDA SUONA IL ROCK
PARA TODA LA VIDA TE QUIERO
SPAGNA EASY LADY
TIC TIC TAC LOS LOCOS
ANDAMENTO LENTO
CUANDO VOLVERAS AVENTURA
DONNE ZUCCHERO
LA VITA E ADESSO
OUTSIDE G. MICHAEL
SPAGNA GENTE COME NOI
BAILAMOS ENRIQUE IGLESIAS
LA FLACA JARABE DE PALO
MICHEAL BOLTON WHEN A MAN OVES A WOMAN
THE RHYTHM IS MAGIC
E PENSO A TE
HERO MARYAH CAREY
IL BELLO DELLA VITA SPAGNA
THE BEST TINA TURNER
THE ISLAND BONITA MADONNA
Y YO SIGO AQUI
BAILA ZUCCHERO
CUBA
I WILL SURVIVE GLORYA GAYNOR
IL MIO CANTO LIBERO
TORN NATALIE IMBRUGLIA
VAMOS A BAILAR PAOLA E CHIARA
DON'T SPEAK
LA CANZONE DEL SOLE BATTISTI
LA PELLE NERA
LAURA NON C'E' NEK
MARIA RICKY MARTIN
MY CHICO LATINO
SENZA LUCE
SEX BOMB TOM JONES
I MIGLIORI ANNI DELLA NOSTRA VITA
QUESTO PICCOLO GRANDE AMORE BAGLIONI
RHYTHM DIVINE ENRIQUE IGLESIAS
5 GIORNI ZARRILLO
CERCAMI
CONVIVENDO ANTONACCI
FANTASY
GAZEBO I LIKE CHOPIN
LA BANANA
CANDELA
DISCO SAMBA
IM OUTTA LOVE ANASTACIA
YOU MAKE ME FEEL
SANTA ESMERALDA
TI SENTO MATIA BAZAR
WITHOUT YOU MARIAH CAREY
BALLABILI / LATINO
BACHATA SAMBA PA TI
BONIEME MIX
CHA CHA
CHA CHA DELLA SEGRETARIA
Adax Merengue
Ai se eu te pego MENEITO
AMAMI ANCORA
AMORE AMORE MIO
Bailando Por Ahi MERENGUE
Bailando por el mundo MERENGUE
BEGUINE SELENIA
BEJGEES MIX
CHA CHA COSTA FAVOLOSA
Corazón Sin Cara BACHATA
Cuando Cuando SALSA
DA QUANDO SEI CON ME
DISCO SAMBA
E LA CHIAMANO ESTATE
FATTI TUOI  FATTI MIEI
FOX DODO
FOX POIS
GIPSI KING MIX
MAZURKA LA FRITTATA
MAZURKA LA PIMPA
MAZURKA PAFFUTELLA
Medley AMORE AMORE MIO
Medley BUM BUM BUM
Medley BUONGIORNO AMORE
Medley MELODIA
Medley MENDICANTE D'AMORE
Medley PRIMO AMORE MIO
Medley PROFUMO DI TE
MIX MA COSA STAI DICENDO- STELLA MIA-BASE+CORI
MODERATO FROU FROU
MODERATO ZIMBA
My Way SALSA
O ritmo do amor MERENGUE
PASO D. KATA
POLKA
POLKA PAPPAPPERO
POLKA SEPPIOLINA
PRIGIONIERO
PROFUMO DI TE
RUMBA BEGUINE VALENCIA
Somethin' Stupid BACHATA LENTA
SONO COTTO
Stand By Me BACHATA
TANGO COUS COUS
TANGO PERFIDO
TANGO PINGU
TANGO ROMANTICO
TARANTELLA PAMPANELLA
TU LA VITA MIA
VALZER CYCLETTE
VALZER I GIRASOLI
VALZER LENTO LE DUNE
VALZER LENTO PUCCI
VALZER LUNGO LA SENNA
Volare SWING
WALZER MUSETTE MON AMOUR
Yo no sé mañana (salsa)
You BACHATA
ZINGARELLA
ZINGARELLA-BEGUINE CANTO
MAS QUE NADA