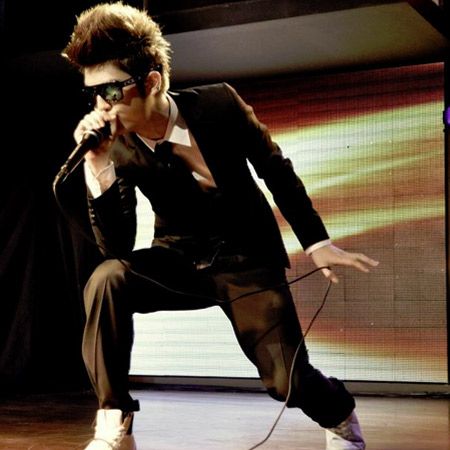 Beatbox Extraordinaire
Performs awe-inspiring mashup of hits by Dubstep, Benny Benassi to Florida
Winner of Malaysia Tag-team Beatbox Battle 2011
Previous clients - Vivienne Westwood, Honda, Toyata, Windows Phone, Corona
Available to perform with an international electric violinist
Based in Malaysia and available to perform at events worldwide
Beatbox Extraordinaire PHOTOS
He performs with style,
he performs with flair,
he performs with heart,
he is the one & only Beatboxer
Extraordinaire
Beatbox Extraordinaire performs an awe-inspiring mashup of hits from Dubstep, Benny Benassi to Florida.  Winner of Malaysia Tag-team Beatbox Battle 2011 he was the 1st Malaysian artist sponsored by EVERLAST and the opening act for Korean Music Wave 2011.  Previous clients include Vivienne Westwood, Honda, Toyota, Windows Phone, Corona.  Available to perform with an international electric violinist.
Pestech International Listing Ceremony @ KL Hilton
ACA Model-search Finals @ Paparazzi
Alexander Christle Watch Launch @ The Stage
MIYAVI Concert Opening @ The Stage, Avenue K
IOC Annual Awards Night
LOVE SATURDAYS @ LOVE MACHINE, Melbourne
Chinese New Year's Eve @ Thean Hou Temple
Dell/Microsoft
Band Reunion @ Musicwalk Taipan
Back To Street @ Nottingham Uni
Bonue Jazz Festival Preview @ Taylor's Lakeside
Xpax SOX @ MABA Stadium
Charity night @ Nilai Inti College
Omega Pub @ Bukit Jalil ( 14 April 2011)
Supernova SOFT launch @ Avenue K
Beat Street Dance Final 2011 @ Summit
Indie Aid Japan @ Laundry The Curve
The Movemint 3rd anniversary @ Milk Club
Sin Chew Carnival Mall @ Tropicana City Mall
Sin Chew Carnival Mall @ USJ Summit
Movemint Daily @ Laundry
Urbanscape 2011 @ Astaka PJ
Supernova Ladies Night Launch @ Aveue K
Amlife 23rd Annual Award 2011
30 Hours famine @ SJK c Pandamaran B
Canaan's Got Talent 2011 @ Canaan Church
Mooncake Festival @ SMKBBSP
Malaysia Underground Beatbox Battle
Advance Tertiary College Prom Night
Staedtler Annual Dinner2011 @Equatorial Hotel
Amber Chia Academy Launch @Time Square
Tron Activation Event @ Sunway Pyramid
Everlast 100years @ Sunway Pyramid
Everlast 100years @ Penang Queensbay Mall
Ishq Bector Concert @ Mist Club
KL Slam Jam @ Maison
1st Mr. & Ms. Taekwondo 2010 @ Diamond KTV
Urbanscape @ KL PAC
Asunta children society
Get together concert 2010 @ ChongWen
And1 Final @ TimeSquare
Masif 2010 @ Pavilion
2nd Malaysia beatbox Competition @ TimeSquare
GlobalArt @ Leisure Mall
Everlast Beatbox Competition @ Sunway Asian Avenue
Christmas Reunion @ klang Executive Club
Moon Cake Festival @ SMKBBSP
A night two remember ballroom party
Ace-Mas @ Notting Ham
Christmas party @ super tuition center
Define Switch Launch @ Rootz, Lot 10
A Cut Above Academy Opening @ Sunway
Segi College Subang Hollywood Night @ PJ Hilton
Music Sharing & Festival @ UTAR
OMG 2nd Anniversary @ EVE, Melbourne
INTI IU CNY Cultural Night 2012 @ Inti Nilai
Hino Chinese New Year Open House @ One World Hotel
Festival "Ai FM"@ Thean Hou Temple
Muzeum Pub Launch
Amber Chia Academy Graduation @ One Utama
Honda Dinner @ Sheraton Hotel
Wazzup "Focus Point" @ Sunway Pyramid
A Smile charity carnival @ Nottingham Bring
Beat Street Dance 2011 @ Summit
RAWR @ Laila's Café
The Curve Fashion Week @ The Curve
RAWR An Honest Mistake @ The Curve
Hankie & Iquin Wedding @ Eastin Hotel
Funbots Munchy's 20th Anniversary @ OneUtama
Amway 35th Anniversary @ Bukit Jalil Putra Stadium
Toyata @ OneWorld Hotel
Everlast Launch @ Sungei Wang
Launch @ SinChew Daily
Human Beatbox Workshop @The Music Walk
Yuen Hing & Grace Ho Wedding @
Korean Music Wave 2011 @ Stadium Merdeka
Blast Of The Youth II @ UTAR Sungai Long
USJ Summit
Asia Model Festival Award 2011 @ Zouk
Lenny Chiah Book Launch "Sin Chew Daily"
Corona Full Moon Beach Party @ Tanjung Aru,KK
Count down show @ Arena Melaka
VIMA award 2010 @ Mist Club
Maison Vibration @ Maison
Everlast 100years @ Kuantan East Coast mall
Share your love @ Subang Taylors College
Munchys Muzic Wafer Launch @ Genting
Everlast 100years @ City Square JB
Kita 1 Irama @ IACT college
The world golden chef competition @ TheMines
FullMoon Party @ Maison
Windwest Pub @ LAOS
State of the art @ CHC KL
Project Undo @ Sunway Opera
Everlast Finale @ Sunway EuroStar
Ezone outing Red Alert @ CHC KL
Windows Phone @ Sunway Pyramid
Emerge Junior2009 @ CHC KL
Usher appreciation night @ CHC KL