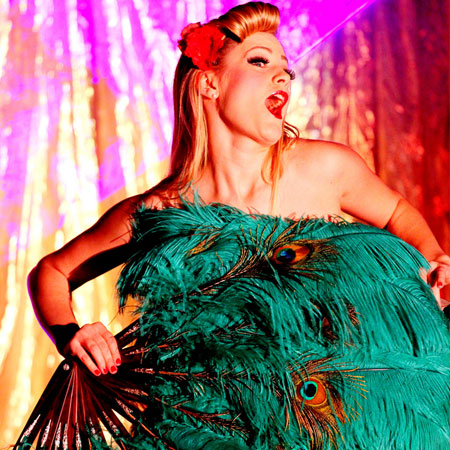 Burlesque Act: Ruby
Breath-taking London-based burlesque performer, actress and pin-up model
A concoction of vintage glamour, wicked humour and glittering costumes
Can perform either a surprise performance or hotly anticipated finale
Her performance will ensure your party is the glitziest bash in town
Perfect for corporate events, intimate dinner parties, cabaret clubs
Burlesque Act: Ruby VIDEOS
Burlesque Act: Ruby PHOTOS
London-based burlesque performer Ruby can whip her audiences into a frenzy or send them into a trance and always, always leaves them wanting more. Before she even knew what Burlesque was, Ruby had a fascination with all things theatrical and fabulous, feathered and glittered, exotic and sensual.
Inspired by the classic splendour of early 20th century film stars such as Rita Hayworth and Gene Tierney, the grand opulence of Victorian and Gothic architecture and the delicate beauty of nature itself, Ruby's performances lure you into another world altogether.
The underground world of burlesque and cabaret has once again risen up and taken the world's stages by storm. Combining an intoxicating concoction of vintage glamour, wicked humour, glittering costumes and bold sassiness in her breath-taking performances, Ruby will lure your guests into another world altogether. Either as a surprise performance or hotly anticipated finale, a burlesque performance will ensure that your party is remembered as the glitziest bash in town!
Forget Burlesque on the cinema screen (…um thanks, Cher!), burlesque belongs on stage! Proudly one of the UK's most sought after stage seductresses, Ruby can create a special bespoke performance whatever your needs are, be it a corporate event, wedding, festival, intimate dinner party, cabaret club or film.
To book this sassy performer for your event contact our team of Entertainment Experts.
A stunning fan dance has an impact like no other and Ruby's is one of the best. Teasing from behind her beautiful bespoke ostrich and peacock feather fans Ruby oozes grace and sensuality in her perfectly choreographed routine to Kashmir or Feeling Good. Can be performed to classic instrumental tracks of bygone eras or a more contemporary song to add an interesting twist.
Cupid's Blind Date
Ruby is looking for a husband and invites three gentlemen up on stage as prospective suitors to take her hand in marriage. With the participators in place she tests them on their disrobing skills and hopes that the lucky last man standing will do the honourable thing. The stellar soundtrack of Cupid and Love And Marriage gives enough hints…
Fetishesque
One of the darker routines in the repertoire Fetishesque harnesses the power of serpentine seduction and sensuality in this routine to Trust In Me a reimagining of a classic song. Adorned in a bejwelled headpiece tulle satin and a body harness this striking act promises to have the audience truly spell-bound.
Fan Dance
A classic glamour Victorian showgirl routine to a bespoke vamped-up version of Rhapsody In Blue. Resplendently dressed in glittering midnight blue Ruby delivers a most elegant and sassy striptease peeling off sumptious layers of sparkling satin; a real show-stopping act.
Paradise
Beguiling and beautiful as an exotic goddess in a glittering full-length sequin gown and headdress Ruby casts a spell over the audience and lures them into a world of an ethereal yet debauched Paradise and with the help of Guns n Roses delivers a true rock n roll bump n grind tassel-twirling finale!
Art Deco
This decadent 1920s-styled act draws on Art Deco opulence and the illicit nature of the Prohibition era. Dripping with jewels in a peach gown this tantalisingly-slow striptease to Harlem Nocturne adds true sophisticated glamour to any cabaret show or corporate event especially Prohibition parties.
The Blue Belle
IDEA ARTICLES RELATED TO Burlesque Act: Ruby