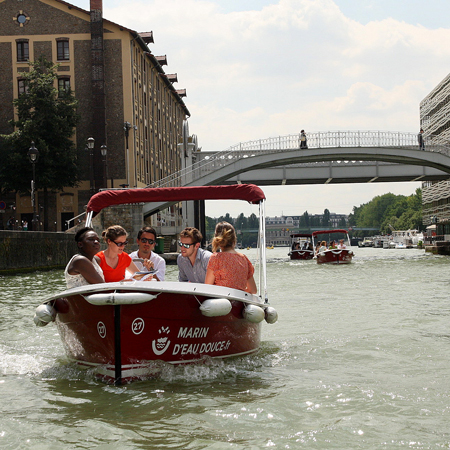 Canal Treasure Hunt
Offer your party an original challenge and climb aboard one of our electric self-drive boats for a fun-filled treasure hunt
A unique and interactive way to get to know Paris whilst cruising along the historic canals
We present our Canal Treasure Hunt as an original team building activity that takes place in the heat of the Parisian Canals
A fun group challenge for your guests to immerse themselves in, solving a series of problems using teamwork and creativity
Allow your customised entertainment to stand apart with with our intuitively developed Canal Treasure Hunt
Canal Treasure Hunt PHOTOS
Allow your guests to embark on a sightseeing tour with a difference with our exciting Canal Treasure Hunt! The perfect team building activity and fun group challenge for your team incentive trip, the ideal solution for your customised entertainment in Paris. 
Climb aboard one of our electric self-drive boats for an original and challenging treasure hunt. With a capacity of up to 11 people per boat, our Canal Treasure Hunt delivers the ideal team event, providing a unique and interactive way to get to know Paris, whilst cruising along the historic canals. 
These intuitively developed challenges will put your employees in a most stimulating situation with their colleagues, presenting the ideal activity to test group teamwork skills in solving interactive tasks, bringing a fun adventure and team building activity for your excursion.
Offer your party a team incentive trip like no other, taking place the heart of the city on the scenic Parisian canals. Our Canal Treasure Hunt will offer a fun group challenge for your guests to immerse themselves in, solving a series of problems using teamwork and creativity. Additionally we can plan your cocktails, lunch and reward ceremonies on our 100m squared floating deck with a capacity of 200 people, the perfect environment for a unique celebration!
All participants will have a canal map aboard their vessel, with each team having between five and seven players. The aim is to succeed the maximum number of challenges during the track, scoring enough points to have a chance to be crowned champions. Our custom-designed treasure hunt will offer your groups the chance to exercise various team working skills, whilst allowing everyone to get to know the beautiful city of Paris from the canals. 
Our professional captains will also be on the water to ensure the safety of your party, along with animating the game and helping to make it an occasion to remember. 
Allow your customised entertainment to stand apart with with our exciting Canal Treasure Hunt! We offer the unique opportunity to prepare custom-made treasure hunts, tailored to your specific brief, dedicated to providing the perfect solution for your personalised event and corporate hospitality in Paris. 
We offer the following Canal Challenges incorporated into your treasure hunt
Chromo Challenge - How fast are you?
Lookout Challenge - Can you find the clues?
Creative Challenge - Are you an artist (photo and tag)?
Fun Challenge - A teammate has to show his or her skills!
History Challenge - How good is your knowledge of Parisian History?
Practical Tips 
We provide all of the electric self-drive boats for your customised treasure hunt
A graffiti Workshop during the treasure hunt is offered in the creative challenge
We have various options for welcoming including coffee, aperitif buckets or aperitif on the deck
Contact us at Scarlett today to talk about booking our Canal Treasure Hunt for your corporate team day or personalised event.