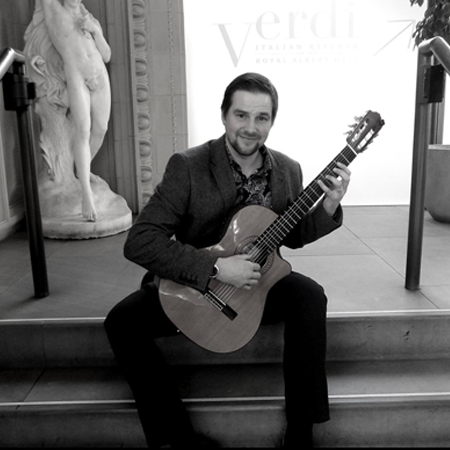 Classical Guitarist UK
Romantic classical guitar is perfect background music
Wonderfully relaxed wedding entertainment and great for garden parties
Guitarist plays classical guitar as well as modern pop covers in Spanish style
A sophisticated and small-scale stage show for art galleries and restaurants
UK-based act available for bookings worldwide
Classical Guitarist UK PHOTOS
Book our classical guitarist for relaxing and sophisticated solo guitar music. As a traditional Spanish guitarist, he creates lyrical background music perfect for weddings, restaurants, art galleries and laid-back functions. The sound of this romantic guitar perfectly complements summer parties and is the ideal accompaniment to an al fresco meal.
There is little else that sets a summery scene than the sound of a Spanish guitarist playing, and our classical guitarist brings the romance of Seville to any event. Playing solo guitar, our act can be tailored to fit into even small-scale venues such as bistros and art galleries and comes fully self-contained, only requiring access to power.
Help your wedding guests' first glass of champagne go down by having our romantic guitarist playing background music as they arrive. The tone and timbre of the instrument is the perfect complement to conversation, without being intrusive or distant. Whether in a small pub or a large church, the sound can be made to suit the size and number of people.
Our classical guitarist will also provide stage shows of his repertoire. This solo guitar show is the ideal diversion from sophisticated events such as exhibition openings at art galleries, charity fundraisers and local festivals. The romantic guitar goes down well with audiences of all ages.
The repertoire for our Spanish guitarist is not exclusively classical. Alongside the classical favourites played by artists such as Craig Ogden and Julian Bream, our solo guitarist plays clever arrangements of Lennon and McCartney tunes and songwriters like Sting, Seal and the Rolling Stones.
Well-suited to any season, our classical guitarist plays fireside jazz standards like The Way You Look Tonight as well as a dedicated Christmas repertoire, including carols, traditional songs such as the First Noel and the Celtic classic Auld Lang Syne. 
For all of your romantic guitar and classical background music needs, book our Classical Guitarist UK today by calling our dedicated entertainment professionals.
A Toy – Anon
Amazing Grace – Traditional
Andantino – Carulli
Brahms Lullaby
Bridal Chorus – Wagner
Cavatina - Myers
Cello Suite No. 1 – Bach
Escocesa (Loch Lomond arr by Segovia)
Estudio No. 1 - Sor
Estudio No. 6 - Sor
Il Carnavale di Venezia - Benedict
Illyrian Lullaby
Jesu Joy of Man's Desiring - Bach
Kemps Jig - Anon
La Coquina Francesa - Sanz
Menuett - Sor
Niel Gow's Lament – Niel Gow
Ode to Joy - Beethoven
Passacaille - Weiss
Siciliana - Carulli
Study in A - Carcassi
Study in B minor - Sor
Study in C - Sor
Study in C - Sor
Study in D - Sor
Tarantella – Trad
Venticinque op. 60 - Carcassi
Wedding March – Mendelssohn
Spanish Repertoire:
Adelita - Tarrega
Alegria - Bartolome Calatuyud
Andantino 2 - Carulli
Capricho Arabe - Tarrega
El Mestre – Llobet
Fantasia - Mudarra
Fandanguillo - Bartolome Calatuyud
Flamenco Pick - Jurg Hochwenber
Gran Vals - Tarrega
Leccion 19 - Aguado
Por Sempre - Robertson
Receurdos de la Alhambra - Tarrega
Romanza de Espana - Anon
Study in C Opus 31 No 1 - Sor
Study in E minor - Tarrega
Classical Repertoire:
Carnival of Venice – Julius Benedict
Fields of Athenry – Irish Traditional
Paraguayan Dance – Outobrino D.Moraes
Po De Mico - Joaopernambuci
Sons de Carrilhoes – Joao Pernambuco
Tico Tico
Christmas:
Auld Lang Syne
God Rest You Merry Gentlemen
Joy to the World
In the Bleak Mid Winter
Oh Come All Ye Faithful
Silent Night
Carol of the Bells
First Noel
White Christmas
Modern:
Amazing Grace
Bachs Cello Suite - as popularised by MILOS
Bridal March
Contemporary version of Hallelujah
Deer Hunter - Theme
Fields of Gold
Here There and Everywhere - The Beatles
If I Fell - The Beatles
Kiss From A Rose - Seal
Lady Jane - The Beatles
Norwegian Wood - The Beatles
Romanza
Speak Softly Love - Theme from The Godfather
The Love Story Theme
The Way You Look Tonight
Tico Tico
Unchained Melody - Righteous Brothers
Wedding March
World Music:
BBC Regions
Borough Councils
EMAP Radio
NHS
Primary Care Trusts
Stonyhurst College
Asda House
Bletchley Park Buckinghamshire
County Councils
Lords & Ladies Norfolk
Photographic Studios
Rock FM
BBC One
" The music he helped us choose for our wedding was so appropriate and extremely well presented on the day. He offered an impeccable, reliable service. "

Mr & Mrs Ellel, Stanley House Wedding, Lancs
" He played at our library during a classical guitar recital, as part of the national "Make A Noise" in libraries. The event was extremely successful with a large number of people stopping by to listen to him. He was wonderful in his playing and was open to questions in between performances. He was very professional and built up a good rapport with his audience during the afternoon. We've asked him to play again for us next year, for a music therapy event. "

Carol Hoskin, Senior Librarian, Lancashire County Council
" The ladies of Pulham St Mary are still talking about the classical guitarist in the tuxedo! His lovely music really contributed to making our Restoration Roadshow a very special event. "

Sheila Moss, Pennoyer's School, BBC Restoration Roadshow
" Everyone complemented the guitarist who made the atmosphere really special. "

Suzanne Pettigrew, Bletchley Park wedding, Bucks