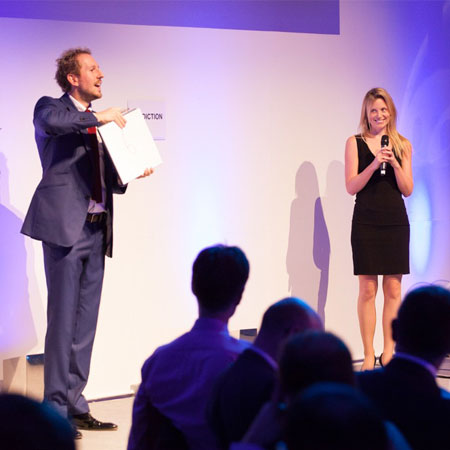 Corporate Mind Reader
Fantastic mind reading cabaret is interactive, engaging, thought provoking and massively entertaining!
Shows include plenty of audience participations making them perfect for corporate events, gala dinners and conferences
Quick wit and a great sense of humour take his mind reading show to the next level
Previous corporate clients include: Apple, Audi, HSBC, Next, Sony and Volkswagen
Based in London and available to book for events worldwide
Corporate Mind Reader PHOTOS
If you're looking for a corporate mind reader based in London to really entertain your guests at an annual corporate event, awards ceremony, gala dinner or conference, our mentalist's mind reading cabaret is perfect. 
Offering up a mind reading cabaret act that is interactive, engaging, thought provoking and above all massively entertaining, our mind reader has the uncanny ability to decipher people's thoughts, predict their behaviour and influence their actions without them realising! His show is incredibly interactive and gives willing participants the chance to put his abilities to the test and experience first hand his impressive mind reading abilities. The whole show is pulled together with his quick wit and fun sense of humour.
He can guess the names that your guests are thinking of, the colours and numbers that they are holding in their minds, he can make a thought transfer from one person to another and the best part is that your guests will never be able to unravel how he does it - though they will spend days and weeks trying! 
Whether you're hosting an exclusive dinner for just a few top delegates or a company awards event with hundreds of attendees, our corporate mind reader's mind reading cabaret can be scaled up or down to suit your audience size and style of event. He will have your guests gasping with amazement one moment and in fits of laughter the next.
No stranger to performing at corporate events of all kinds, our mentalist magician from London as performed for a huge list of blue chip clients including Apple, BP, Microsoft, British Airways, John Lewis, ITV, and KPMG. 
Able to tailor his performance to suit your specific event, get in contact with our experienced Entertainment Coordinators to find out more about booking his mind reading cabaret show for your next corporate event. 
BBC
Barclays
British Tobacco Company
Deloitte
Ernst & Young
Ferrari
Fullers
Google
IBM
John Lewis
Lloyds
Microsoft
O2
Pearson
Samsung
Siemens
Tesco
Verizon
Apple
BP
British Airways
Coca-Cola
EMI
Eurostar
Fujitsu
GlaxoSmithKline
HSBC
ITV
KPMG
Mastercard
Next
PWC
Rackspace
Shell
Sony
The Co-Operative
Volkswagon
Audi
" Massively entertaining "

Andy Stevenson, CEO, Fujitsu
" Jaw dropping and funny "

Laurence Mills, Audi
" Absolutely first class "

Richard Clarke, EMI
" Hilarious and mind blowing "

John Witt, Eurostar