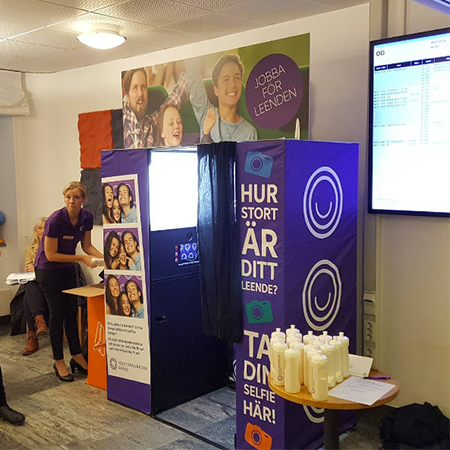 Customisable Photo Booth
A fully Customisable Photo Booth that will provide guests at your event with memories in the form of funny instant photos
Digital copies of every photo can be found online so people can share them on social media
Book a photo booth cabin or a photo backdrop that can also be personalised with logos or images
Video messages can also be recorded following the instructions on the screen
Hire this original photography service for events in Southern Sweden and the Greater Copenhagen area
Customisable Photo Booth PHOTOS
Your event is guaranteed to be a huge success among guests with this Customisable Photo Booth, the ultimate interactive entertainment activity that is the silent star of any party. Invite people to step into the photo booth and create priceless pictures and unforgettable memories.
This irresistible form of entertainment is very popular among children and adults alike. Social media lovers especially enjoy this as they can find digital copies of their pictures once the event comes to and end and share them on their Facebook, Twitter, Instagram and other social networks. Regarding the latter, this Photo Booth service includes a hashtag printer that prints any picture taken at your event once it's uploaded to Instagram with a hashtag previously chosen.
On top of that, all the funny instant photos taken during your party will be available online so people can save them and share them with their friends on social media. In case people rather have them printed, there are two photo sizes to choose from: 5x15 cm or 10x15 cm, ideal formats to fit into a photo frame.
This original photography service includes the following:
Photo booth cabin, branded or unbranded
DSLR camera to ensure high quality pictures are taken
Transportation to and from event
Photo booth set up
Demonstration of photo booth features
Unlimited photo prints
Company logo or a personalised message in printing paper
Full technical support
Digital copies of all pictures
Suitable for outdoor and indoor events, this original photography service not only can offer a photo booth cabin but also a photo backdrop that can also be personalised with logos, images or colours. Besides funny instant photos, your guests will also have the possibility to record video messages. Funny glasses, wigs and other props can also be provided for extra fun. Whatever the occasion, this Customisable Photo Booth will leave memories that will last forever.
Don't miss the opportunity to provide guests with unforgettable memories in the form of instant photos. This Customisable Photo Booth will be a hit at your event, so make sure you contact our entertainment specialists today and make your enquiry.
Coop
Helsingborg City
IKEA
Pwc
Telia
AssaAbloy
Dreamhack
Hilti
Lund University
Scandic Hotel
Comviq