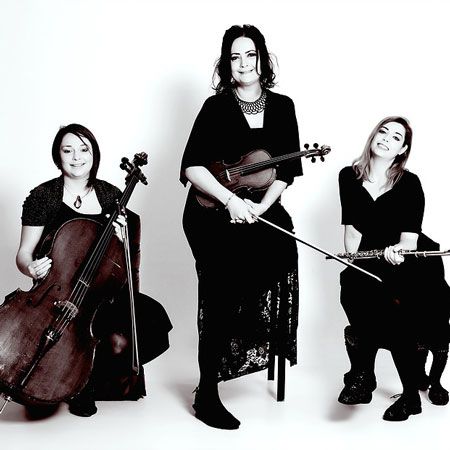 Dancing Classical Trio
The original and best dancing classical music trio
Covers of pop hits as well as classical favourites
Impressive and fun spectacle of classical musicians dancing as they play
Act able to roam as well as offer stage performance
Wow your guests with this clever and interactive act
Dancing Classical Trio PHOTOS
It's common to see a classical trio playing all manner of formal events. It's less common to see them jump to their feet and do the Can-Can while still playing their instruments. Yet that's precisely what our Dancing Classical Trio do! Less common still is for the group to be able to move seamlessly between classical favourites like Pachelbel's Canon and chart-topping pop hits like 'Hello' by Adele.
The classically-trained trio combine individual virtuosity with a light-hearted and masterful act perfect for weddings, informal and formal parties. Able to perform their big dance numbers on a stage as well as roaming around tables and conversing with guests as they play, there won't be a member of your party that isn't charmed and delighted by this all-female group. 
As well as their thoroughly entertaining roaming set, the Dancing Classical Trio can play a more formal classical concert, allowing them more license to show off their extensive skills and perform the role of a traditional classical group. This doesn't have to lose its modern touch though; they have a long list of pop songs in bespoke arrangements that will get even the oldest and most pop-averse guest tapping their feet and humming along.
With such broad appeal and unique charm, the Dancing Classical Trio are the perfect act for weddings, restaurant openings and any other event that has both distinction and a sense of humour. Full of class, sophistication and a healthy dose of whimsy, this is a classical music trio with a difference.
Contact one of our dedicated entertainment specialists to book the Dancing Classical Trio today.
Show and Roaming Act:
Canon in D - Pachelbel
Air - Bach
Can Can - Offenbach
Czardas - Monte
Trisch Tratsch Polka - J. Strauss
Irish Medley - Trad.
Chasing Cars - Snow Patrol
Hello - Adele
Classical:
Ave Verum Corpus, K.618 - W. A. Mozart
Divertimento in F, Allegro and Andante - W. A. Mozart
1st movement from Spring - A. Vivaldi
Arioso - J. S. Bach
Jesu Joy of Man's Desiring - J. S. Bach
Two Bourrees - G. F. Handel
Hornpipe in F - G. F. Handel
Air in F - G. F. Handel
Menuetto in G minor - G. F. Handel
La Paix - G. F. Handel
Menuet in D - G. F. Handel
Two Rondeaux - Henry Purcell
Rondeau - J. J. Mourner
Flower Duet - L. Delibes
Meditation from Thais - J. Massenet
Humming Chorus from Madame Butterfly - G. Puccini
Romance - Dimitri Shostakovitch
Pavane - Faure
Wedding March - Wagner
Jazz and Ragtime:
Country Club - Scott Joplin
The Ragtime Dance - Scott Joplin
Paragon Rag - Scott Joplin
Summertime - Ella Fitzgerald
Sunrise sunset - Jerry Bock
Moon River - Henry Mancini
Tangos:
Tango Op.165, no.2 - Isaac Albinez
That's Amore - Dean Martin
Pop:
Tender - Blur
Viva la Vida - Coldplay
Shake it Off - Taylor Swift
A Thousand Years - Christina Perri
California Dreamin' - Mamas and Papas
All Of Me - John Legend
Chandelier - Sia
1st Movement, Eine Kleine Naccht Musik - W. A. Mozart
Bolero - Ravel
Hungarian Dance no.5 - Brahms
Por una Cabeza - Gardel
Dark Eyes - Trad.
Londonderry Air - Trad.
Sailor's Hornpipe - Trad.
It Must Be Love - Madness
All About That Bass - Meghan Trainor
Arrival of the Queen of Sheba - G.F Handel
Eine Kleine Nacht Musik: Romance, Menuetto and Trio, Rondo - W. A. Mozart
Divertimento in D, Allegro and Andante - W. A. Mozart
Largo from Winter - A. Vivaldi
Gavotte from the Suite in D - J. S. Bach
Largo from Xerxes - G. F. Handel
Hornpipe in D - G. F. Handel
Air in D - G. F. Handel
Bourree in F - G. F. Handel
Coro - G. F. Handel
La Rejouissance - G. F. Handel
Menuet in D minor - G. F. Handel
Trumpet Tune - J. Clarke
Three Little Maids from School - Arthur Sullivan
Chanson de Matin - Edward Elgar
Polovtsian Dances from Prince Igor - Alexander Borodin
Nessus Dorma from Turandot - G. Puccini
Panis Angelicus - C. Frank
Theme from the 1st Symphony - Brahms
Wedding March - Mendelssohn
The Entertainer - Scott Joplin
Original Tags - Scott Joplin
The Favourite - Scott Joplin
As Time Goes By - Herman Hupfeld
Films and musicals:
Star Wars main theme - John Williams
The Godfarther Waltz - Nino Rota and Carlo Savina
La Cumparsita - G M Rodriguez
El Choclo - A. Villoldo
Sway/Cherry Pink - Pablo Beltran
One Day Like This - Elbow
Yellow - Coldplay
Marry You - Bruno Mars
I'm Yours - Jason Mraz
Bad Romance - Lady Gaga
She - Charles Aznavour, Herbert Kretzmer
Cheerleader - OMI
Lady Madonna - The Beatles
Metropolitan Police
The Warren
Stephenson Harwood LLP
Villa de Geggiano
" We have had Trifonics at a number of our corporate events and they have always been very well received. Great band, great music and great to work with - thank you! "

Kate Dempsey, Corporate Client
" I can highly recommend the musical talents of this trio. They have performed for us on many occasions and never cease to amaze us with their extensive repertoire. "

Martin Purser, General Manager - Metropolitan Police Hayes Social Club