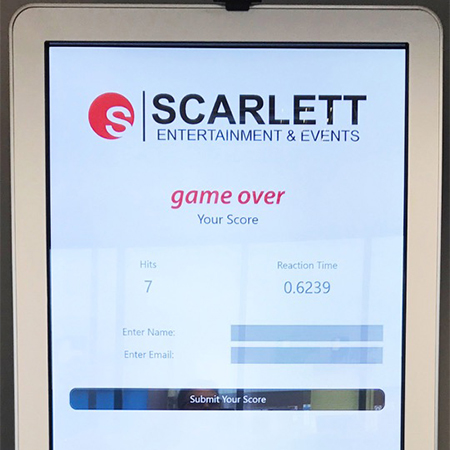 Digital Reaction Game
A fun interactive game that tests reaction speed and mental agility
In 30 seconds, participants can test their eye-hand coordination
Can be customised with your brand's logo, images or chosen colours so it fits your event's theme
Ideal interactive entertainment for exhibitions, trade fairs, private parties, and many more
This amazing Digital Reaction Game can be booked for events in Bristol and London
Digital Reaction Game PHOTOS
Allow guests at your event or party to test their reaction speed and develop mental agility with this fantastic Digital Reaction Game, a fun interactive game that tests eye-hand coordination and reaction speeds.
This mental agility test can be set up so it lasts 30 or 60 seconds. The aim is to hit the illuminated buttons that randomly appear in the screen within this time interval. This way, our Digital Reaction Game will test how good participants' hand-eye coordination is as well as their reaction times. The more lights hit, the better the score. Our Digital Reaction Test comes with a built-in photo leaderboard in which participants can see the results of the top 10 highest scores.
The game is fully customisable, which makes it especially suitable for corporate events. Whether you'd your logo, any image or even your corporate colours to be included or displayed in the screen, our group of experts will make it happen for you. As you can see in the pictures above, they customise it with Scarlett Entertainment logo and the result is simply stunning.
A fun interactive game that not only puts mental alertness to test but that also helps people develop it, this reaction speed test will make people at your event gather around it and queue to give it a try.
The ideal interactive entertainment option for events such as exhibitions, trade fairs, product launches, private parties or festivals, our mental agility test is guaranteed to be a hit at your celebration.
Scarlett Entertainment can offer a wide variety of interactive entertainment for events in the UK and all around the world.
If you're interested in booking this Digital Reaction Game for your event in Bristol or London, don't hesitate to get in touch with our wonderful team of experts today and make an enquiry. They will be more than happy to guide you through the booking process and answer all your questions.