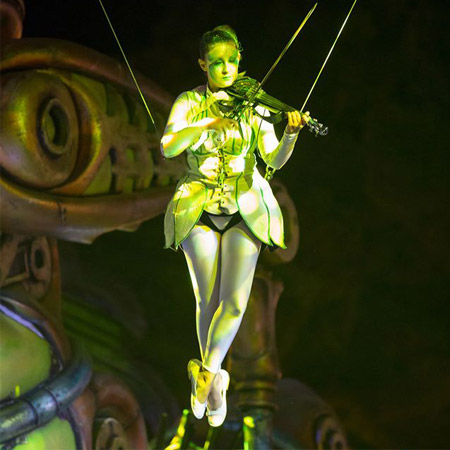 Doll Aerial Violinist
One of a kind doll violinist will amaze guests with stunning music and unique theme
Breath taking wind up doll act performs beautiful violin music in a magical life sized doll costumes
Aerial violinist can perform exquisite music suspended in the air and even plays upside down
Stilt violinist creates a striking and memorable impression at events, theatres and festivals
Incredible aerial violin available as solo performer or trio for events worldwide
Bring a totally unique and memorable musical performance to your event with this stunning doll violinist. This breath taking aerial violinist performs beautiful music while suspended from the ceiling to create a magnificent spectacle that's incredible to watch and captivating to listen to. Our aerial violin players perform in remarkable wind up doll costumes to create an act that's one of a kind and truly magical.
Our doll violinists are a unique and mesmerising attraction perfect for and kind of event where visual impact and gorgeous musical performances are welcome. This extraordinary wind up doll act can also be performed on stilts for a more mobile and unique performance perfect for outdoor venues or for setting the ambience at drinks receptions or festivals. Book this incredible aerial or stilt violinist and treat your guests to beautiful string music like they've never seen it before.
Our aerial violin act can be performed solo or as a trio and works equally well as a captivating act for theatres and events or as a stunning visual attraction in receptions or corporate functions. This unique wind up doll act is full of character and will spark the imagination of your guests as our talented aerial violinists perform as life sized dolls, spinning and revolving and even playing upside down.
Our talented doll violinist creates the perfect mood for classy events with her expressive playing, while the doll theme adds a touch of mystery and magic to the evening. For a truly unique entertainment spectacle our wind up doll act can be performed from atop stilts, creating a striking and beautiful sight as our stilt violinists stride through your event bringing their exquisite music wherever they go. 
Scarlett Entertainment offers you a brilliant range of string players and electric strings to bring exquisite music to your event. Contact our brilliant team to arrange booking one of our acts.