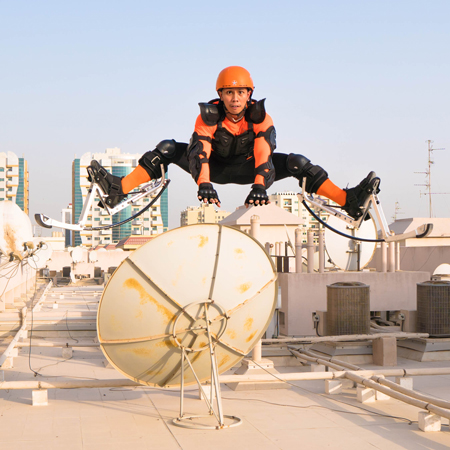 Dubai Jumping Stilts Crew
Extremely energetic stilt performers with highly impressive jumping stilts guaranteed to capture attention
Amaze audiences with flips, somersaults, synchronised dance routines and skilled acrobatics
Available for choreographed stage based performances through to freestyle roaming entertainment
Experienced with brand reveals, car launches and corporate events as well as main stage acts
Based in Dubai, the dancers are available for events throughout the UAE
Dubai Jumping Stilts Crew PHOTOS
Our highly energetic Dubai Jumping Stilts Crew give any event a level of motivation that creates a buzz amongst the crowds. The acro-stilts performances are fascinating to watch and so dynamic they can be applied to a wide range of events or special occasions. 
Energetic entertainment that captures attention 
The Dubai Jumping Stilts Crew are an unquestionable head turner. As one of the very few jumping stilts acts in the Middle East, they are sure to capture the attention of on-lookers who have never seen anything like it before. Their very specialist skills enable them to jump and bounce with flips and somersaults which gets the attention of guests far an wide.
Make a real spectacle with a jumping silts act
These acro-stilts can deliver an adrenaline-fueled choreography along to music with acrobatics and superb synchronisation. Alternatively, the Dubai Jumping Stilts Crew is able to roam around your event and freestyle in various locations.
Brandable energetic entertainment that can be themed
The jumping stilt performers have colourful futuristic looking costumes which are eye-catching as they are but could be adapted to suit your event theme and even include branding. The professional performers have experience creating performances for brand reveals, car launches and corporate events as well as festival and main stage acts. 
If you are looking for unusual stilt act or a form of energetic entertainment, don't hesitate to contact us. We have many exciting options around the UAE including these excellent jumping stilts performers.