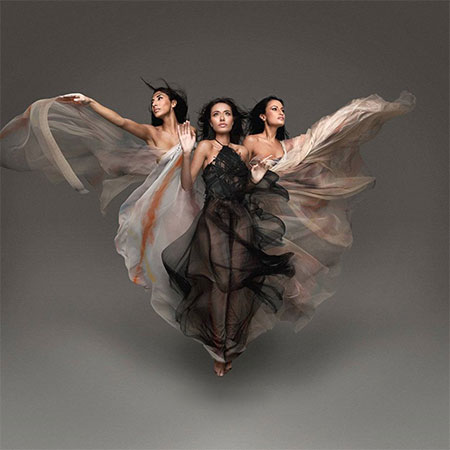 Female Classical Crossover Trio
Sophisticated opera pop group merges classical vocals with modern sounds
Repertoire ranges from famous classic operas to pop tunes like 'Sweet Dreams' or 'I Believe I Can Fly'
Happy to perform along live orchestras and other artists and adapt their costumes for each occasion
Ideal live music entertainment for concerts, festivals, cultural events, corporate entertainment, private parties, etc.
This Female Classical Crossover Trio is based in Rome, Italy and available for worldwide bookings
Female Classical Crossover Trio PHOTOS
If you would like to provide audiences at your upcoming event with a truly unique muscle experience, then this Female Classical Crossover Trio is what you're looking for. This opera pop group is formed by three talented classical crossover singers with captivating voices and a sophisticated yet modern singing style.
This modern opera trio's performances are a stunning fusion of classical sounds and pop. By merging different styles, they create shows that appeal to broad audiences. This opera pop group's extensive repertoire ranges from famous opera classics to pop hits like 'Sweet Dreams' or 'I Believe I Can Fly', among others.
Happy to customise their set list for your event, our classical crossover singers will make sure both their repertoire and their costumes are the appropriate for each occasion. From beautiful evening gowns to casual dresses, our performers have a comprehensive selection of outfits to choose from. They can also wear costumes, masks and any other accessories required for each performance.
The perfect live music entertainment for a variety of occasions, our modern opera trio have delighted audiences at numerous corporate and cultural events, private parties, concerts and festivals. They're happy to adapt their shows to different types of audiences and situations.
Top Tip:
Our versatile classical crossover singers always welcome the opportunity to perform along other artists like orchestras and adapt their shows to be part of bigger productions or variety shows.
Scarlett Entertainment offers a variety of live music entertainment options for events in Italy and worldwide.
If you're interested in booking this sensational Female Classical Crossover Trio, then don't hesitate to get in touch with us today and make an enquiry. Our dedicated team of Entertainment Experts will be more than happy to provide further details on this modern opera tio and assist you in the booking process.