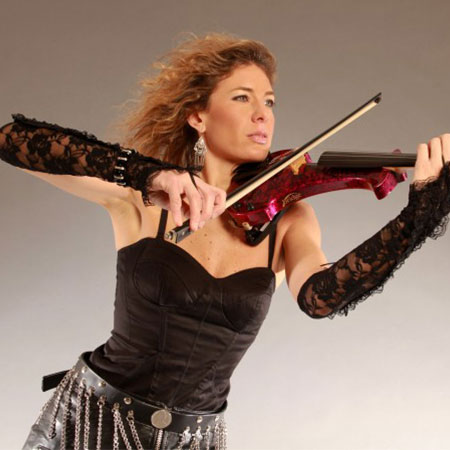 Female Crossover Violinist
Talented and versatile crossover violinist plays both the classical and the electric violin
Has classical and contemporary music repertoires that she can adapt to suit your requirements
Previous clients include renowned brands like Maserati, Mercedes, Coca-Cola, Armani, etc.
Perfect live music entertainment for corporate events, nightclubs, fashion shows, private parties, product launches, etc.
This Female Crossover Violinist is based in Milan and available for bookings in Italy and worldwide
Female Crossover Violinist PHOTOS
Talented and versatile. These are the two best adjectives to describe our Female Crossover Violinist, an extraordinary musician who has plenty of experience delighting listeners at numerous events with both classical and electric violin music.
Academically trained, this modern violin player has both a classical and contemporary repertoires. Fully customisable, her set lists can be adapted to suit your specific needs and fit your occasion. From the beautiful and soft melodies of Vivaldi to the explosive rhythms of Avicii, this versatile artist can play it all!
Our modern violin player offers both roaming performances and stage shows. Happy to share the limelight with other artists, she always welcomes the opportunity to ask other performers such as DJs to join her for some performances.
She has collaborated with big names in the industry such as Robert Milles, Gianna Nannini and Bon Sinclair, to name a few. Our experienced crossover violin player has also appeared on X Factor, The Voice and X Style, among others.
Renowned brands such as Maserati, Mercedes, Coca-Cola, Armani have trusted her in the past to provide the entertainment for some of their corporate events and product launches. You can check the full list of our modern violin player's happy clients by clicking the tab above.
Suitable for a wide range of occasions, classical and electric violin music is the ideal live music entertainment option for corporate occasions, product launches, store openings, fashion shows, private parties, and many more
Scarlett Entertainment offers a broad variety of live music entertainment options for events and occasions in Milan, Italy and all over the world.
If you would like to book this phenomenal Female Crossover Violinist, don't hesitate to get in touch with us today and make an enquiry. Our dedicated team of Entertainment Specialists will be more than happy to answer all the questions you may have about our modern violin player and guide you through the booking process.
A Sky Full of Stars - Coldplay
Adios  Andalucia - Eric  Fernandez
After  Comes Sun - Solomun
Ain't Nobody
Amelie  (rework) - Klangkuenstler
Aquamarine - Heather Nova
Be the One Dua Lipa
Better Wipe That Up/ Lazy Rich - Veni Redemptor Gentium
Breathing Light - Nitin  Sawhney
Bring Me the Orizon - What is the Edge
Cantoma - the Call
Cassiopea - Koelsch
Chill out in Paris/ Do You Want It - Chris Wilson
Do You Know  the Truth - Flash  Callahan/jalapeno  Funk
Don't  You Worry  Child - Swedish House Mafia
Every Breath You Take
Faded - Zhu
Firestone - Kygo
Fragile
Guitarra G - Soundtrack/ G Club
Heartbreaker - Crazy P
I Had This Thing - Royksopp
I've Seen That Face  Before - Grace  Jones
La Vie En Rose - Grace Jones
Levels - Avicii
Liquid Spirit - Gregory  Porter
Make Me Feel Better - Alex Adair
My Enemy - Aeroplane
Ponchill - Violet Theme
Prayer in C - Lilly Wood
Rapture Lio - Papeete  Lounge
Shed My Skin - Therese
Street Life
Sweet  Child O' Mine - Trace Bundy
Take a Ride - Rodney  Hunter
Videogames - Lana Del Rey
Viva La Vida - Coldplay
Wake Me  Up - Avicii
Want You in My Soul - Lovebirds/album Papeete Beach
Without You - David Guetta/instrumental Version
Electric Violin
Autori Vari - Irish Fiddler  Pieces
Bach - Aria sulla IV    corda
Beethoven - Inno alla Gioia
Beethoven - Romanza   op. 50
Bellini - Casta Diva
Bizet - Dall' opera Carmen  " Habanera
Brahms - Danza Ungherese   n. 5
Brahms - Danza Ungherese n. 1
Brani   vari    ungheresi
Dvorak - Humoresque
Gershwin - Summertime
Gounod - Ave Maria
Kreisler - Liebesleid
Kreisler - Londonderry
Mascagni - Intermezzo di Cavalleria Rusticana
Massenet - Meditation
Monti - Csardas
Morricone - Gabriel's Oboe
Morricone - La Califfa
Offenbach - Barcarole
Pachelbel - Canone in Re Maggiore
Piazzolla - El Chiquilin  de Bachin
Piazzolla - Libertango
Piovani - La Vita è Bella
Puccini - Nessun  Dorma
Purcell - Rondò  in Re Maggiore
Ravel - Bolero
Rodriguez - La Cumparsita
Saint- Saens - Dal Carnevale degli Animali   " Le Cygne "
Schubert - Ave Maria
Tchaykovsky - Walzer  del Lago dei Cigni
Villoldo - El Choclo
Vivaldi - Allegro dalla " Primavera "
Vivaldi - Concerto in Sol Maggiore
Vivaldi - Largo da l' " Inverno "
Classical Violin
Armani
BMW
Bugatti
Coca-Cola
Elgon Sisley
Ferrari
Ing Direct
Julius Meinl
Mandarina Duck
Mercedes
Natuzzi
Piguet
Silvian Heich
Trussardi
Wolford
Adema
Audi
Banca Aletti
Campari Santoni
Daks
Falconeri
Heineken
John Player
Lancia
Martini
Morellato
Philip Plein
Septwolves
Square Garden
Whirlpool
Alfa Romeo