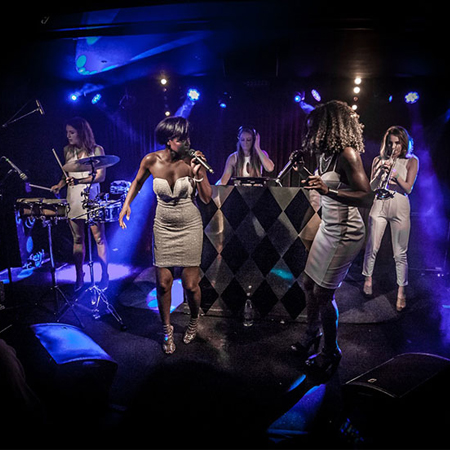 Female Music Collective
Electrifying high end entertainment featuring female DJ, singers and musicians
All female band offer dazzling performances full of glamour and energy
Huge range of line ups from DJ and female singer to full band with sax, violin, guitar and more
DJ and musicians nominated for Act of the Year at the 2012 Event Awards and performed for Nike, Harley Davidson, Virgin, Nikki Beach and Mini
Sensational party band based in London and available worldwide
Female Music Collective VIDEOS
Female Music Collective PHOTOS
This collective of stunning female musicians are an electrifying and innovative addition to the world of live entertainment. Our outrageously talented female band can range from a 2 piece package to a full line up which consists of a professional female DJ, saxophonist, percussionist and vocalist, and other instrumentalists including an electric violinist and guitarist can also be added. 
Established in 2002 and created by one of the UK's most sought-after female DJs, the group have worked with big-name brands and live acts, including Hed Kandi, Ministry Of Sound and Escala.  Since then this fantastic line up of DJ and musicians have performed across the globe and in some of the world's most famous venues from the UK, Dubai, Mexico, USA, Japan, India, Indonesia and Australia as well as touring most of Europe.
Our female singers and band have collectively performed for a stellar list of clients including The X Factor, Grammy-winning artist Adele, Madonna, Rihanna, Jay-Z, Black Eyed Peas, Florence and the Machine and Richard Branson. Our DJ and musicians have also performed for MTV and for brands such as Diesel, Adidas, Cartier, Nike, Pacha, Ministry of Sound and Harley Davidson.
With an all female line up, our party band bring a touch of glamour, sass, talent and energy in abundance to each and every event, creating a nightlife experience like no other. Our female band is available in a huge range of line ups to suit any event size and theme. From a single female DJ to a duo with DJ and singer to larger options including percussion, violin, sax and more this party band offer a flexible and professional service, and whatever line up you choose you can rest assured you are getting a dazzling and high energy musical performance.
Scarlett entertainment offers you a great selection of female bands and DJs for events worldwide. 
To find out more contact our entertainment specialists today.
Elle Style Awards
Sofitel Luxury Hotels
Harley Davidson
Nikki Beach
Hilton
Cartier
and many more...
Microsoft
Swarovski
Nike
Virgin
Mini
Carlsberg
Selfridges