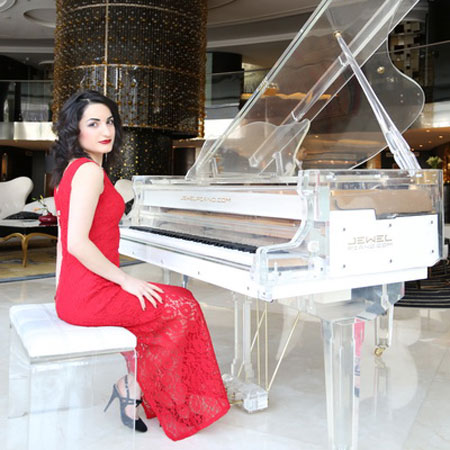 Female Pianist
Classically trained pianist will provide the perfect soundtrack at your event
Able to perform in a range of different styles to suit the occasion
Award winning musician and composer with a wealth of experience
Ideal for corporate events, parties, weddings, gala dinners & more
Based in Kiev and available to perform at events worldwide
Our brilliant pianist is certain to set the perfect tone at your special occasion as she provides a beautiful instrumental soundtrack that will complement your event and create a sophisticated and relaxed ambience for all to enjoy.
Classically trained and an award-winning player and composer, this wonderful pianist is proficient when it comes to performing a wide variety of different styles, ensuring that she can deliver a set exactly tailored to your event.
A versatile performer, our talented pianist can play solo, or as part of a duet or trio, and guarantees to make your event stand out above the rest. Ideal for parties, weddings, corporate events, gala dinners, festivals, ceremonies and more, enquire today about bringing our accomplished pianist to your event.
Wonderful Tonight ( E. Clapton)
Teardrop Waltz
Our Same Word ( Yiruma)
My Heart Belongs To Daddy ( Cole Porter)
I Was Going Home ( M.Poire)
The Scenery Begins ( Yiruma)
The Swan ( Camille Saint-Saens)
Cinema Paradiso ( E. Morricone)
Study In E Minor ( Betini)
Sky For Two (Zara)
Study In A ( Le Couppey)
Study In B ( Lemoine)
Little Piece In C Sharp Minor ( Frank)
Prelude In D Minor ( Lyadov)
Prelude In C Minor ( Pachulski)
Jagdlied ( Mac Dowell)
Berceuse ( Maikapar)
Schlummerlied ( Wolf)
For Linda King ( M. Shimz)
Theme From Godfather 2 ( Nino Rota)
Love Theme From "The Godfather " ( Nino Rota)
The Weeping Willows Are Slumbering (B.B.)
Speak Softly Love ( Nino Rota)
The Godfather Marurka ( C. Coppola)
Michael"L Theme ( Nino Rota)
Do Not Go AwayStay With Me A Bit (N. Zubrov)
Listen To Your Heart ( Per Gessle)
Sopho Nizharadze-Shine
I Remember The Wonderful Sounds Of Waltz (N. Listov)
Largo (Vibaldi)
Prelude For Ket
Tokkata (P.Morea)
Some Enchanted Evening ( R. Rodgers)
Elysian Fields ( D.Dassen)
Chattanooga Choo-Choo ( Harry Warnren)
Sway ( Pablo Beltran Ruiz)
Nostalgy ( Azerashvili)
Music From The Film "Sunflowers" (H. Mancini)
To You (V.Philipenko)
Piano Concerto No.1 (P.I. Tchaikovsky)
Cabaret (J.Kander)
One In The Long Ago ( Kevin Kern)
Barcarolle (J. Offenbach)
Cello Concerto ( Edward Elgar)
Song Killing Me (Foks)
Dove (S.Irade)
Ladi Di ( Paul De Senneville)
I"D Like To Teach The World To Sing (B.Backer)
Les Derniers Jours D"Anastasia ( Paul De Senneville)
Alouette (P.Moria)
Toccata (P.Moria)
Couleur Tenderesse ( Paul De Senneville)
Pilgrims Chorus ( R.Wagner)
Pirates Of Penzance ( A. Sullivar)
The Policeman's Song
Polovtsian Dances (A. Borodin)
Romeo And Juliet (P.I. Tchaikovsky)
You Are In My September (Igor Krytou)
Concerto Pour Une Jeune Fille Nomme "Je T"Aime" ( Paul De Senneville)
Mame ( J. Herman )
Passing By ( Yiurma )
Indigo ( Yiruma )
Nordische Romanze
River Flows In You ( Yiruma )
Time Forget ( Yiurma )
Baby Grand ( Billy Joel)
1315"S Improvisation C ( Yiurma )
Widerspruch (Anton Arensky)
Song Without Words (I.Laskovsky)
Little Flower (St. Bishe)
Meditation From The Movie "8th Wonder Of The World"
A Whiter Shade Of Pale ( Keith Reid)
Minuet From Sonata No. 6 (Thomas Arne)
The Shadow Of Your Smile ( J.Mandel)
The Summer Know ( M. Legrand)
Fly Me To The Moon ( F. Sinatra)
I Guess I'll Have To Change My Plan ( A. Schwartz)
St. Louis Blues ( By W.C. Handy)
Morning ( E.H. Gried)
Tristess Study (F.Chopin)
Tango ( I.Albeniz)
Windy Mills (M.Legran)
Prelude 1 (Bach)
Lullaby Svetlana
I Like The Fact That You're Not Me
Tike Five
Tenderness (Pahmutova)
Pardonne-Moi Ce Caprice D"Enfant ( P.Mariat)
Take Windmills Of Your Mind (M.Legrand)
When The Saints Go Marghing In
I Will Always Love You ( W.Houston )
Emmanuelle(P.Bachelet)
Moonlight Sonata (Beethoven)
Feelings
Malaga
Live Poem ( Lee Je Soo)
This Masquerade (L.Russel)
Romance De Amour (N.Yepes)
Bye Bye Love
Aida (G.Verdi)
Marche Militaire ( F.Schubert)
April (Tchaikovsky)
Serenade (Schubert)
Elvira Madigan (W.A. Mozart )
Sailors Choir( R. Wagner )
La Calinda ( F.Delius)
Kiss The Rain ( Yiruma )
Solfeggeietto ( Bach)
Romantica Serenade ( Paul De Senneville)
Unfinished Symphony (F.Schubert)
Ave Maria
Prelude (L.Gurilev)
Les Fleurs Sauvages ( Paul De Senneville)
Misty ( E.Garner)
Russian Intermezzo (V.Kalinnikov)
Etud
Etud (Tchaikovsky)
Mart (Tchaikovsky)
Clubbed To Death (Rob Dougan)
Do Not Deny Loving
Jazz ( O. Peterson)
Arioso ( Bach)
The After Day ( Yiruma )
Melody ( Francis Lai)
Sleep ( Libig)
Moon River ( H. Mancini )
New York ( J. Kander )
Song From A Secret Garden ( R.Lovland )
Meditation ( Y. Kuramoto )
And I Love You So ( Don Mclean )
See The Conquering Hero Comes ( G.F. Handel )
Northern Sky ( Brian Crain )
Once In The Street
Right Here Waiting ( R. Marx )
For The Good Time
Stephania (Malikov)
La Fiancee Imaginaire ( Paul De Senneville)
Greensleeves ( E. Air)
Meditation (J.Massenet )
Mika"S Song ( Yiruma )
Joys Of The Heart ( Brian Crain )
Only Jnce ( B. Fomin )
Love Hurts
L"Heure Bleue ( O. Toussaint)
Do Not Get Around Much Anymore ( Duke Ellington )
Ley Me Try Again (M. Jourdan )
Chorus Of The Hebrew Slaves ( G. Verdi )
Chaconne ( Yiruma )
Moon River ( H. Mancini)
O For The Wings Of A Dove ( F. Mendelssohn )
On Wings Of Song ( F. Mendelssohn )
Reason ( Yiruma )
Suite No.3 ( J.S.Bach)
La Donna E Mobile ( G.Verdi)
Dixie Land ( D.D. Emmett)
My Heart Will Go On (D.Horner)
Lotus (Schuman)
Humoreske ( A.Dvorjak)
Liebestraum No.3 (F. Liszt)
The Liberty Bell ( J.P. Sousa)