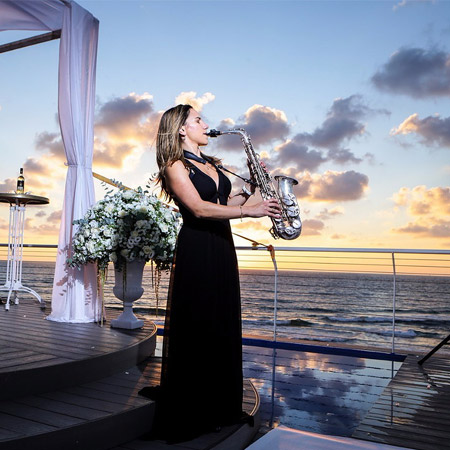 Female Saxophonist Middle East
Talented female saxophonist will create an amazing soundtrack for your event.
Highly skilled sax player will keep guests entertained and hitting the dance floor.
Beautiful ambient music to relax guests as the perfect background sound.
Amazing Ibiza sax music is the ideal entertainment for corporate events, private parties, and more.
Fantastic live music entertainment will fill your event with beautiful music available across Israel and worldwide.
Female Saxophonist Middle East PHOTOS
Are you looking to surprise guests with a one of a kind musical performance? Look no further than Scarlett Entertainment's fantastic female saxophonist. Providing charm and elegance, our beautiful sax player is an expert when it comes to improvising her routine, quickly making her a versatile performer who's style can fit with most themes. Our saxophonist can perform everything from beautiful ambient music that'll help set the mood for your event, or coupled with a DJ to perform an amazing set of Ibiza sax music and other improvised versions of songs being played by a DJ. Providing live music entertainment that'll captivate guests of all ages.
Our female saxophonist will keep your event moving and grooving, with her one of a kind set of dance and deep house music. Set the perfect mood for your event with the smooth playing by our sax player. Ideal live music entertainment choice for wedding receptions, corporate events, club nights, private parties, and many more, our phenomenal Ibiza sax music player will help create an amazing atmospheric experience that'll fill your venue with joyous, smooth jazz. Creating a unique environment around her playing, our sax player is always improving her techniques, bringing something fresh to each performance, making her live shows a must see affair.
A diverse and dynamic musician, our sax player will leave a lasting impression on guests whether it be with her unique ambient music or jazz renditions of improvised goodness, guests are in for a very unique experience. Our sax player can also be combined with a full jazz band to provide even more smooth jazz sounds, or an electrifying DJ to really bring the heat to your event, the possibilities are endless when you book one of Scarlett Entertainment's fantastic engaging entertainment acts.
If you're interested in booking our fabulous female saxophonist for your next event, contact any of our wonderful in-house entertainment experts who'll guide you through our booking process, guaranteeing you lock in your entertainment choice.