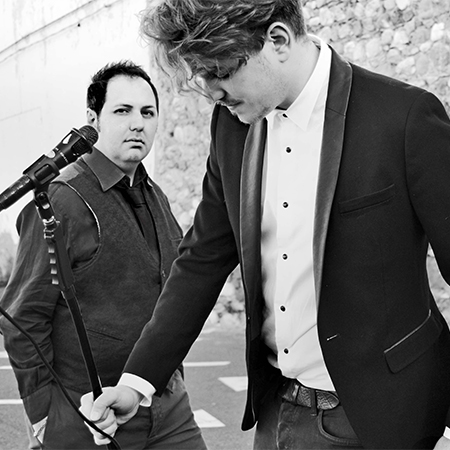 Florence Acoustic Duo
Acoustic Duo who re-arrange well known Pop and Classic Italian songs
Create a fun, interactive performance with every audience
Acclaimed among the locals and various event organisers within Italy
Constantly updating and evolving their repertoire to keep their act varied
Based in Florence, Italy and available to perform at events worldwide
Florence Acoustic Duo PHOTOS
The Acoustic Duo are a group based in Florence, Italy who formed with the aim of producing music that is pleasant, addictive to listen to and very versatile.
The duo of talented musicians re-arranges well known musical pieces from the pop scene as well as Classic Italian songs into beautiful acoustic covers, in order to create a fun atmosphere and a real interaction with the audience.
After spending some time building and perfecting their large repertoire, the duo began to play in various clubs within Florence as well as, private parties and weddings, gaining acclaim among the locals and various organisers of the evening.
The acoustic duo's project, is constantly evolving, given the continuous updating of the repertoire to keep up with the latest hits and with the demands of the public.
Contact our in-house team of entertainment specialists if you would like to book this fantastic Florence Acoustic Duo. 
Don't you worry child
Sweet dreams/seven nation army
All star
No stress
Piccola stella senza cielo
Niente paura
I'm yours
Lazy song
Oggi sono io
L' essenziale
Parlami d' amore
She wolf
Wreckin ball
Rewind
I' m blue
Smoke on the water
Pompei/call me maybe
Come together
Easy
Imagine
Wildworld/Sex bomb
Yellow lemon tree
I kissed a girl
Teenage dream
Ai se teu pego
Where is love
Titanium
Bad day
Rotolando verso sud
Life in technicolor
Clocks
Talking about the revolution
Wake me up
Apologize
Try
Billie jean
Save tonight
Wonderwall
Happy
Let her go - G
Locked out of heaven
La vita e la felicità
Indietro
Rather be
Summertime sadness
Demons
Magic
A sky full of stars
Stolen dance
Hey Brother
Get Lucky
Latch
Animals
Mr Saxobeat