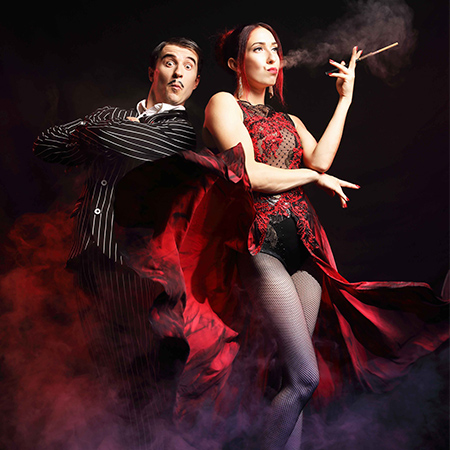 Gothic Circus Duo
Gothic circus performers immerse viewers in a spooky world of skulls, skeletons and outstanding circus routines
Varied gothic circus show brings together various disciplines such as aerial dance, hand balance, quick change, juggling, and more
Duo creates an immersive environment with a truly creative set design and audiovisual effects
Perfect Halloween themed entertainment and also popular gothic circus show for themed events, resorts, theme parks, private parties, etc.
This Halloween Circus Duo is based in Kiev and available for bookings in Ukraine and worldwide
Amaze audiences at your upcoming event with this talented and versatile Gothic Circus Duo, an artistic couple that has created a Halloween circus act involving numerous disciplines, audiovisual support and effects and gorgeous costumes. 
Bringing together various circus disciplines on one stage, these gothic circus performers execute numerous ground and aerial routines that are guaranteed to get audiences mesmerised. Skilled in various arts, these talented artists have created unique aerial, hand balance, quick change and dance choreographies.
Strongly inspired by the most famous Gothic family of pop culture, this Halloween circus act is loved by audiences of all ages. With a unique and original set design, our gothic circus performers create the perfect environment for spectators to immerse in a spooky world of skulls and skeletons. 
Making viewers' jaws to drop with spectacular acrobatics, impossible moves and outstanding ball-juggling skills, this duo will ensure both gothic style lovers and circus enthusiasts enjoy a show that involves it all!
A popular Halloween themed entertainment option, this sensational gothic circus show is also the perfect choice for themed events, resorts, theme parks, private parties, after dinner experiences, etc. Whatever the occasion, our circus artists never fail to impress!
Scarlett Entertainment offers a wide range of Halloween themed entertainment for events and occasions in Ukraine and worldwide. 
If you're interested in booking this Gothic Circus Duo, then contact us today. Our in-house team of Entertainment Experts will be delegated to answer all the questions you may have about this gothic circus show and assist you with your booking.
IDEA ARTICLES RELATED TO Gothic Circus Duo