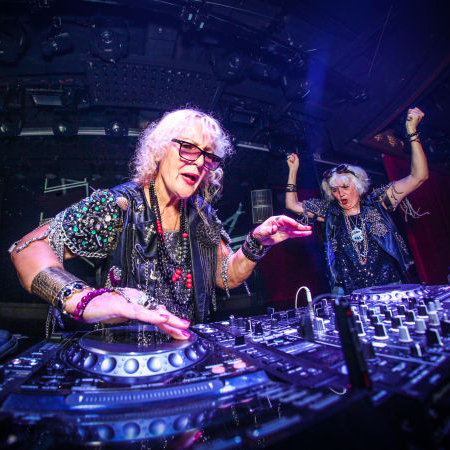 Grandma DJs
An explosive female DJ duo consisting of two frisky and lovely grannies
A pair of dynamic performers who will jump, dance and encourage crowds to join in the fun
Can dress up as candy girls, rock and roll stars and choose other outfits to fit your party's theme
Unique live entertainment ideal for clubs, private parties, festivals, and many more
Based in Ukraine and available to perform at parties all around the world
Are you looking for unique live entertainment for your event? Then look no further. This female DJ duo is guaranteed to cause an impression and get people talking about your event for years to come. Our Grandma DJs are a pair of energetic performers that are always the brightest stars of any party.
This dynamic duo of DJs is guaranteed to catch the attention of party-goers and put a big smiles on their faces. Always with great energy and enthusiasm, our frisky granny DJs will jump, dance and encourage people to join in the fun.
Whatever the occasion, this female DJ duo will make sure they dress appropriately for your party. With a comprehensive selection of outfits in their closet, our creative party DJs always choose the one that best fit your party's theme. Either dressed as candy girls or as rock and roll stars, their wardrobe choices promise not to disappoint.
Half way between sweet and wild, our Grandma DJs are guaranteed to be a hit at any event they show up at. This duo of energetic performers will be more than happy to bring their good vibes and energy to clubs, private parties and festivals anywhere in the world.
If you're looking for an entertainment option that is really unique and special, there are few options as original as the explosive live show offered by our Grandma DJs. Make sure you give your guests something to talk about by booking this singular pair of DJs, real party animals and the life and soul of any celebration.
Scarlett Entertainment offers you a wide variety of unique acts and female DJs for events all around the world.
Book our energetic and frisky granny DJs for events, parties, nightclub celebrations and other occasions by contacting our team of entertainment specialists today. They will be happy to answer all the questions you may have about this act and guide you through the booking process.