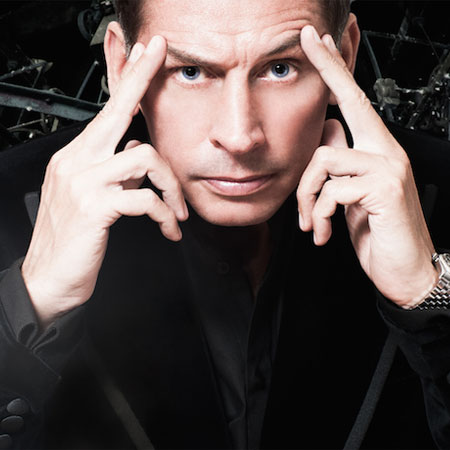 Hypnotic Showman
Meet one of the of the best and most talented elite stage hypnotists in the world and witness your event descend into hypnotic hysteria
Enjoy an act that comedy and hypnotism to create an unforgettable after dinner show
Our event hypnotist will captivate and amaze audiences with his mind-bending talent!
His magic show has been booked by clients including MTV, BBC, British Airways and Virgin Media
Book Hypnotic Showman for events in the UK and worldwide
Meet an event hypnotist and mind bender extraordinaire ready to give your guests something that few performers can - the opportunity to know what it feels like to be hypnotised! Yes you may have seen it on the TV, but do you really have an idea what it feels like in real life? Prepare to open up your mind to a new level of (un)consciousness in this superb hypnosis show. One of the most in-demand stage hypnotist's around, this artiste provides a night hypnotic hysteria in every electric after dinner show.
Conjuring humour from every element of his performance, our Hypnotic Showman's charismatic stage presence helps to set guests at ease whilst his quick wittedness has audience's splitting their sides. Filled with lots of participation throughout, by the end of this act hypnotised audience members will have become the true stars of the show. Book this top notch hypnotist today from critically acclaimed booking agency Scarlett Entertainment.
In the last ten years, this performer has firmly established himself as one of the top elite stage hypnotists in his profession.A unique force in the world of hypnosis, it is no surprise that our mind magician is one of the most sought after Global entertainers around today, having performed on some of the biggest luxury cruise ships in the world, averaging at over 47 ships a year.
Combining the art of hypnosis with outrageous comedy, this act taps into the creativity of his willing volunteers as they let their imaginations loose and leave their self-consciousness behind. A fast thinking comedian who milks humour out of every situation that arises on stage, our event hypnotist creates unforgettable memories for audiences. The perfect after dinner show, prepare to bust a gut laughing as the stage descends into hypnotised chaos.
The ultimate entertainment hypnotic show for gala dinners, cruise ships, corporate functions and more, get ready to have your mind boggled with our exceptional Hypnotic Showman.
To learn more, get in touch with our team at Scarlett Entertainment today and we will be happy to help. 
Channel 4
His Royal Highness The Prince Of Dubai
Royal Caribbean International
Princess Cruises
Virgin Media
Sony Records
MTV
British Airways
Disney Cruise Lines
Celebrity Cruise Lines
Arsenal FC
Polish TV
BBC
" …was thrilling from start to finish, utterly unbelievable what this genus of a man can do! "

HRH Prince Mohammed Bin Rashid Al-Maktoum
" WOW! I honestly don't have the words to describe what a fantastic night we had we were all mesmerised! "

Dana Marie Clarke, Senior HR Manager, British Airways
" A truly tantalising, awe-inspiring, mind-boggling and thoroughly entertaining evening onboard the biggest luxury cruise ship in Europe! "

Nicky Woodward, Royal Caribbean International