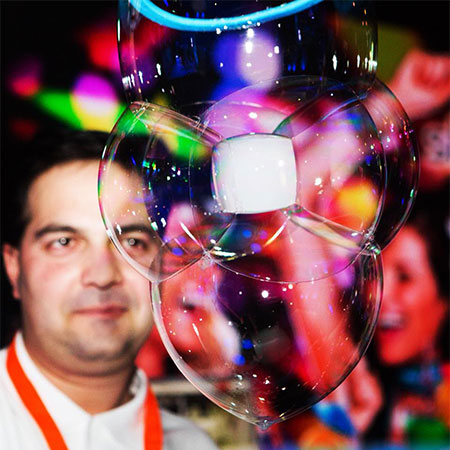 Interactive Bubble Performer
Fun and educational bubble show for adults will immerse viewers in the magical world of bubbles
Talented performer specialist in his field can create bubbles of all sorts, shapes and sizes
Bubble magic show has no language barrier, which makes it the perfect entertainment experience for guests of all nationalities
Perfect trade show entertainment and also a popular choice for exhibitions, galas, after dinner experiences, etc.
This Interactive Bubble Performer is available for bookings in Slovakia and worldwide
Interactive Bubble Performer PHOTOS
Amaze guests at your upcoming event with bubbles like they have never seen before. This Interactive Bubble Performers will allow viewers to see bubbles in a new light and experience first hand how bubbles can develop different forms and sizes.
Fun and educational at the same time, this bubble magic show can awake your guests' interest in science. Our bubble magic performer is a specialist in his field and will be happy to provide workshops for those willing to learn the science behind bubbles.
A charming entertainer, this bubble magic performer will quickly win audiences over with his friendly personality. He will encourage people to get closer and witness how he creates bubbles of all sorts and sizes right before their eyes. From smoke and fire bubbles to bubbles inside bubbles, this talented bubblogist can also place objects and people inside giant bubbles, offering a fantastic photo opportunity!
This visually stunning bubble show for adults has no language barrier, which makes it the perfect entertainment experience for guests of all nationalities. Creating wonderful sculptures and pieces of art with simple soap bubbles, this talented performer is guaranteed to be an instant hit at any type of event.
An in-demand trade show entertainment option, this bubble show for adults is also a popular choice for exhibitions, galas, after dinner experiences, weddings, birthdays and festivals, among others. Able to adapt to different performance spaces, our entertainer can perform his bubble show for adults both indoors and outdoors weather permitting.
Top Tip:
Also a popular children's entertainer, our versatile bubble magic performer also offers shows especially tailored for little ones.
Scarlett Entertainment offers a variety of trade show entertainment options in Slovakia, Europe and all across the globe.
Enquire about this sensational Interactive Bubble Performer by contacting us today. Our dedicated team of Entertainment Specialists will be more than happy to answer all the questions you may have about this bubble magic performer and assist you in the booking process