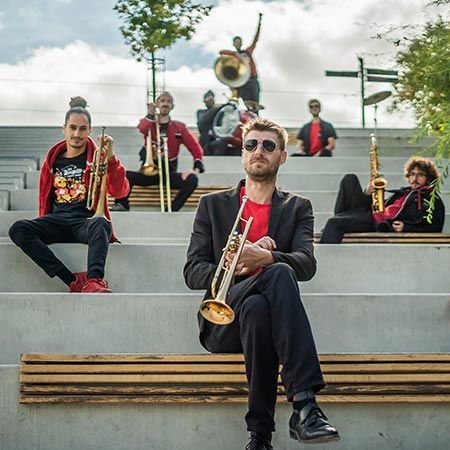 Jazz Funk Roaming Band
A dynamic marching band influenced by New Orleans' jazz and also hip hop, funk, Jazz and Latin sounds
These live jazz musicians can offer both roaming performances and stage concerts
Dancers can join these live jazz musicians to ensure their performances are more dynamic and interactive
Perfect live music entertainment option for street celebrations, private parties, festivals, etc.
This Jazz Funk Roaming Band is based in Tolouse and available for worldwide bookings
Jazz Funk Roaming Band VIDEOS
Jazz Funk Roaming Band PHOTOS
Are you looking for the right live entertainment option for your street celebration, festival or special occasion? If you're considering a dynamic marching band for it, then look no further. Our Jazz Funk Roaming Band is the live jazz music group for you.
Strongly influenced by New Orleans' sounds, these live jazz musicians have all the ingredients to transport audiences to the birthplace of jazz. This eight-piece dynamic marching band consists of trombone, saxophone, trumpet and sousaphone players besides energetic percussionists.
This musician's style is defined as jazz funk, a combination between traditional live jazz music, hip hop, funk, swing and Latin sounds. By mixing the richness of these rhythms, these energetic performers deliver a wide variety of armories that all sorts of audiences will love, especially jazz listeners. These marching musicians will bring a taste of the Caribbean to your event and recreate the festive atmosphere and history of New Orleans, all in one performance.
On top of that, our live jazz musicians are versatile performers. They can offer both roaming performances and stage concerts, so they can adapt to any situation. Their shows can be even more dynamic and interactive when jazz dancers join them and encourage audiences to join in the dancing.
The perfect live music entertainment option for street celebrations, jazz festivals, private parties, themed occasions and many more, our dynamic marching band is guaranteed to liven up your party with their vibrant sounds, their infectious energy and their good vibes.
Scarlett Entertainment can offer a broad variety of live music entertainment options and marching bands for your event or party in France or anywhere in the world.
To book this fantastic Jazz Funk Roaming Band, contact our in-house team of Entertainment Specialists today and make an enquiry. They will be happy to provide further information on our live jazz musicians and assist you in the booking process.