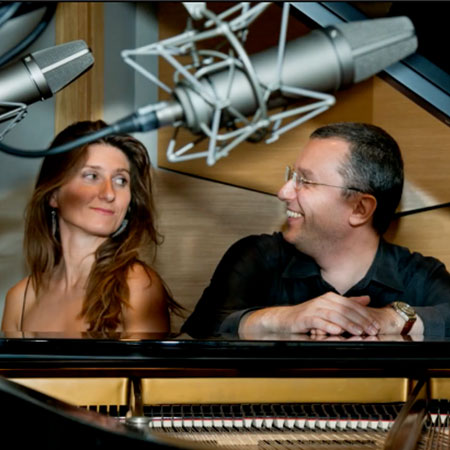 Jazz & Opera Duo
Versatile jazz cover duo formed by classical female vocalist and pianist performs songs and styles for all tastes
Performances are a captivating blend of piano melodies and live opera singing
Extensive and varied repertoire includes jazz standards, Spanish zarzuelas, Argentinian tangos. Russian romances, French chansons, etc.
Perfect live music entertainment for events such as weddings, corporate evenings, receptions, dinners, and more!
This Jazz and Opera Duo is based in Sofia and available for bookings in Bulgaria and worldwide
Delight guests at your event with covers of famous American jazz songs, Spanish zarzuelas and French chansons by booking this versatile Jazz and Opera Duo.
Formed by two talented musicians who have joined forces to offer a truly unique musical experience, this jazz cover duo blends piano melodies with live opera singing. With an expansive and varied repertoire that includes ceremony and classical music, samba, tango, bossa nova and opera, this jazz cover duo perform unique versions of classics such as 'Ave Maria' by Schubert or 'Your Song' by Elton John, to name a few.
Able to sing in different languages such as English, French, Spanish and Portuguese, the duo's classical female vocalist can delight listeners with songs in their own language. This makes our musicians suitable for events with international audiences!
The duo's classical female vocalist perform a broad variety of genres ranging from Spanish and Latin music to jazz standards and Russian romances, styles that perfectly match her powerful and captivating voice.  Happy to adapt to different performance spaces, this duo can fully adapt their set list and style to match the tone of your party.
A popular cruise ship entertainment option, this jazz cover duo is also an in-demand live music entertainment choice for weddings, corporate evenings, receptions, dinners, and more! Whatever the occasion, our classical female vocalist and pianist are guaranteed to set the perfect tone for your occasion with their performance.
Scarlett Entertainment offers a wide range of live music entertainment for events and occasions in Bulgaria, Europe and worldwide.
Enquire about this Jazz and Opera Duo today by contacting us. Our dedicated team of Entertainment Experts will be more than happy to answer all the questions you may have about this jazz cover duo and assist you with your booking.